Morro de São Paulo is a small town located in the Tinharé island. Is one of the most visited places in Bahia State. Warm ocean water and dreamy palm trees decorate perfectly its beautiful beaches. If you are planning on visiting Brazilian's North, this place is definitively a must. So let's talk about what to do in Morro de São Paulo, where to stay, and how to arrive in this amazing paradise. Welcome to our Morro de São Paulo travel guide!
Morro de São Paulo Travel Guide: How to arrive
The Tinharé island is located almost in front of Salvador de Bahía, the capital city of the Bahia State. Morro de São Paulo is one of the 5 villages on the island, and it's by far the most touristic one. The easiest way to arrive is by starting the journey from Salvador city, from where there are different options depending on how much money you want to spend and how much time you have.
By ferry boat
The ferry boat is the option to arrive at Morro that most tourists choose. To take it, you should go to the Modelo market, in the low city., where you will find the maritime terminal. That ferry leaves a few times a day, but there is no service after 2 pm. It has a cost of about 15 $ and it takes around 2 hours to arrive. Be aware though, the sea can be a little shaky, so a lot of people get dizzy on board.
Semi-terrestrial transportation
If you choose to go with the semi-terrestrial option, you will save some money. But you should know it will take you a lot of time. To start the journey, you have to arrive at the São Joaquim maritime terminal, also in Salvador de Bahía. From there, take a ferry boat going to Bom Despacho, in the Itaparica Island. That ticket cost around 4$. Once in Bom Despacho, take a bus to Valença city. The ticket will cost you 2$ more. When you arrive in Valença, you will have to reach the maritime terminal, from where speed boats and regular ships are leaving every hour to Morro de São Paulo. In total, arrive at Morro will cost you around 10$.
By plane
The last and fastest option is also the most expensive one. You can take a flight from the International Magalhanes Airport to arrive directly at Morro. You can check the prices online. And, of course, if you book the flight with anticipation it is going to cost you less.
Morro de São Paulo Travel Guide: Things to do
Beaches
The first – and obvious – option about what to do in Morro de São Paulo is: going to the beach! As I told you before, Morro is an Island, and that's why it has so many different beaches for you to enjoy.
Primeira and Segunda Praia
The first beach or Primeira Praia, it's the most visited for the locals. It's a great option for adventurous travelers, as it has the best waves for surfing. Also, you will find a zip line falling from the top of the hill and landing at the sea. This beach has some beach bars where you can sit and spend the day while drinking a cold caipirinha. It's near to downtown and right by the second beach.
The Segunda Praia, or second beach, it's the most animated. Most tourists and backpackers choose to spend the days in here, as it is an extensive strip of sand and holds a lot of restaurants and beach bars. It's a great spot to admire the moonrise and to know fun people if you are traveling alone.
Terceira, Quarta and Quinta Praia
The third beach or Terceira Praia is a beautiful extensive and quiet beach. One of its many wonders, besides the virgin-like landscape surrounding it, is the natural pools that are formed when the tide is low.
The fourth beach, Quarta Praia, it's practically a deserted 8 kilometers-long beach. There is where you should go to escape the crowd and enjoy the loneliness feeling in one of Morro's most beautiful beaches.
There is also a fifth beach, called Praia do Encanto or Quinta Praia, but as is far away from the center, most travelers only arrive there by bike, by boat, or by taking the "around the Island" tour.
Gamboa and Porto de Cima
Praia Porto da Cima is one of the less-visited beaches in Morro de São Paulo. For that reason, it's a quite great option for taking a relaxing sunbathe and enjoy the quietness. You can reach this beach by walking to the left of the main Pier. It's a good idea to check the tide before going to Porto da Cima, as you will be able to enjoy it more on low tide.
Praia da Gamboa
Nightlife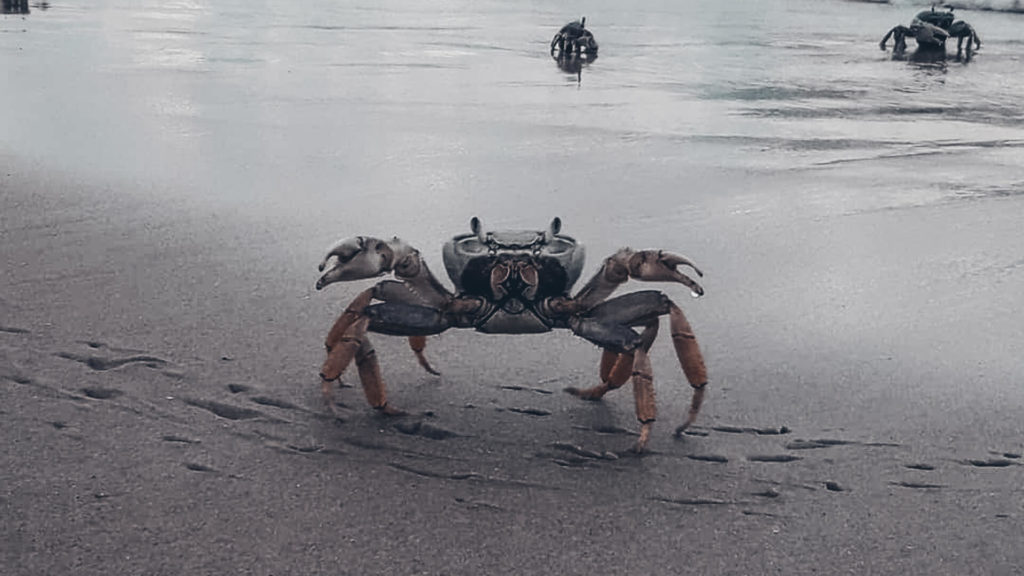 Morro de São Paulo is a youth destination by excellence. So, yes, there is a lot to do at night. All over the center, the main street, and the second beach, you will find a wide variety of bars and restaurants to get the party started. There's a different plan for every week's night in Morro. Hence, here are some of my favorites:
Teatro do Morro is one of the biggest clubs. It's located on the Mangaba neighborhood, and it can be accessed by climbing a ladder on the Second Beach. There's normally live bands, mixed music, cheap drinks, and lots of fun.
For a memorable sunset, you should go to Toca do Morcego. Chill out music, delicious cocktails, and the best vibe to enjoy the beautiful view of the sun setting over the sea.
If you are in the mood for a beach party, twice a week there's a Luau on the Second Beach. It's one of the best options to enjoy the nightlife in Morro de São Paulo. A DJ plays all kinds of music as the drink karts gather around the dancing multitude. It's a great option to have fun without paying an entrance.
Morro de São Paulo is definitely one of the best party beach destinations in South America! If you are looking for some fun, we have written this post of the best 5 party beaches on the continent for you.
The around the Island Tour
I don't normally recommend taking tours, but this one is totally worth it. The around the Island Tour leaves from the Third Beach every morning. As you image from its name, it goes all the way around the island. You can buy your ticket on any tourist agency, as they all have a standardized price and they all offer the same. Depending on the tides and the weather, they may alternate the order of the stops, but this is what you will see:
Cairú. You will have around 1 hour to visit this historic town. They charge an entrance fee, so it's optional to get down the boat.
Guarapuá and Moreré natural pools. Amazing natural pools in the middle of the sea, but with really low depth. You will have the chance of doing snorkel and see colorful fishes.
Boipeba Island. A beautiful island that is full of palm trees, where you can swim and take pictures for around 2 hours. Here is also where you will stop for lunch
The floating restaurant on the river. A great place to try oysters!
Morro de São Paulo Travel Guide: Accommodation
In Morro de São Paulo there are accommodations for all different kinds of travelers. For backpackers, my recommended option is to choose a hostel, and Morro has a lot! On my first time on the island, I stayed in La Casita. It's a great budget-friendly choice with a nice and youthful vibe. But keep in mind that, if you go there, you will find a lot of Argentinian guests, as its owners also are. There's also a Che Lagarto hostel on the island, that has more like a party atmosphere and it's very well located. Another great option would be Universo Pol, a nice bamboo-built hostel surrounded by nature, where there's often live music shows and jam sessions happening.
Click here to see all the options available in Morro de São Paulo. Whatever you choose, try to book it in advance to make sure there's enough availability, especially if you visit Morro de São Paulo during the summer season.
So there you go! Now you know everything you need to know before visiting Morro de São Paulo. For any comments or questions, feel free to use the comment section below. Don't forget to check out other great Brazilian Destinations.
Have a great adventure!