When I arrived in Maceió, I was planning on staying for a few days but I ended up staying for over a month. Truth is I have never heard of this city before, so I wasn't expecting much. Guess what? It pleasantly surprised me! I know one of the worst feelings in the world is to realize you missed a beautiful place you were so near of, just because you didn't know it was there. So let's prevent that from happening! If you are here to discover everything about the beautiful Maceió, I present to you this humble post. Welcome to our complete Maceió travel guide!
Maceió Travel Guide: How to arrive
Maceió is the capital city of Alagoas State. Its location makes it an excellent strategical stop for when you are traveling from the south to the north of Brazil or vice versa. If you are heading north, it is a great place to visit after Salvador de Bahía and it's surroundings. In case you are heading south, you can visit it after leaving Natal or Recife.
There are two main ways of arriving in Maceió: by bus or by plane, both departing daily from every other big Brazilian city. I was in Aracajú, the capital city of the Sergipe State, located to the south when I decided to go to Maceió. Instead of the regular bus, I decided to use the Blablacar app, to share travel expenses by car with some other guys. It's a safe app and I highly recommend it. You will save some good money.
Warning: Buying tickets online in Brazil may give you a headache.
When you try to book a plane or bus ticket on Brazilian platforms, they will ask for some documentation that we foreigns simply do not have. One of the steps to confirm your ticket is to introduce your CPF number. The CPF is a "physical person registration" that only Brazilian citizens have. So, no luck for us buying online, hum?
And there's one more problem. Foreign credit cards don't normally get accepted on these platforms, as they also ask for a CPF number that matches the one registered at the credit card's information. I know: It's so frustrating!
My advice: go to the nearest bus terminal and buy the ticket with anticipation. And if you choose to fly, then use foreign websites to buy your ticket or simply choose to pay via bank ticket.
Maceió Travel Guide: Things to do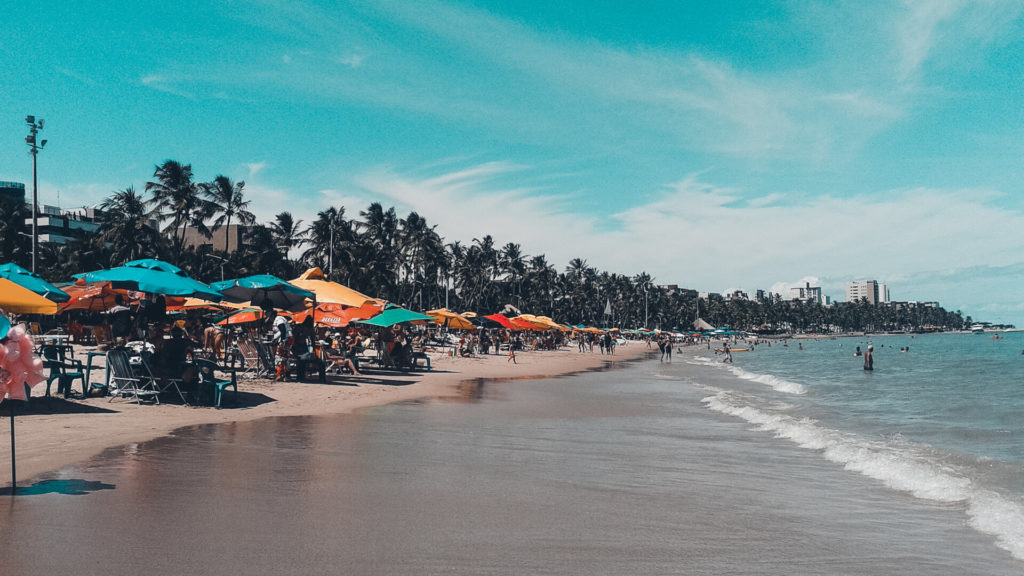 Maceió is home to some of the most beautiful beaches in Brazil. I dare to say, some of the most beautiful beaches on the continent. But besides its beaches, this coastal city has a lot to offer. In case it helps, this is my top 5 on the best things to do while backpacking Maceió.
Visiting the Historic Center and urban beaches
Jatiuca, Ponta Verde, and Pajuçara are the main beaches near Maceió's city center. You could start your day by going to the historic center. From there you will have a short walk to Pajuçara beach.
And get ready to walk some more, because Maceió happens to have the most beautiful "Orla" in Brazil. This means it has a 4 kilometers-long boardwalk corridor that was recently elected as the best one in the country. If you follow this Orla, you can arrive from Pajuçara to Ponta Verde while enjoying the pleasant view.
Ponta Verde is one of the most visited beaches in Maceió. It receives its name because it's covered by green palm trees. As it is so visited, you will find plenty of options to sit by the beach. Have a drink or eat something at one of its many restaurants and kiosks.
Jatiuca beach is a little farther away, but you could still walk there if you are in good shape! It's a much quieter option for spending a relaxing day by the beach. There are places for you to rent lounge chairs and umbrellas and pamper yourself with a tasty refreshing coconut or a cold beer.
Going to Praia do Frances and Gunga
Praia do Francés is one of my absolute favorites beaches in Maceió. It's famous for its wonderful natural pools and its beautiful crystalline water. It has two sides where the sea behaves differently. Strong waves, great for surfers on the right side, and calm water on the left.
Located 20 kilometers away from the city center, you can reach this beach by car or by bus. If you are going by car, I recommend you to share an Uber ride with more people to share the expenses. There are lots of accommodations, bars, and restaurants in the area, so you could stay there just one day or spend a few days there.
Unfortunately, I missed the chance of going to Praia do Gunga. Don't make the same mistake! My friends told me this is one of the most beautiful beaches in Brazil. On Gunga, the ocean meets the São Miguel River, giving as a result an incredible landscape. Praia do Gunga is famous for its cliffs, called "falésias" in Portuguese. The best way to enjoy them is by renting a buggy.
Same as Frances, to reach this place you can take a bus or share a car trip.
A short trip to São Miguel dos Milagres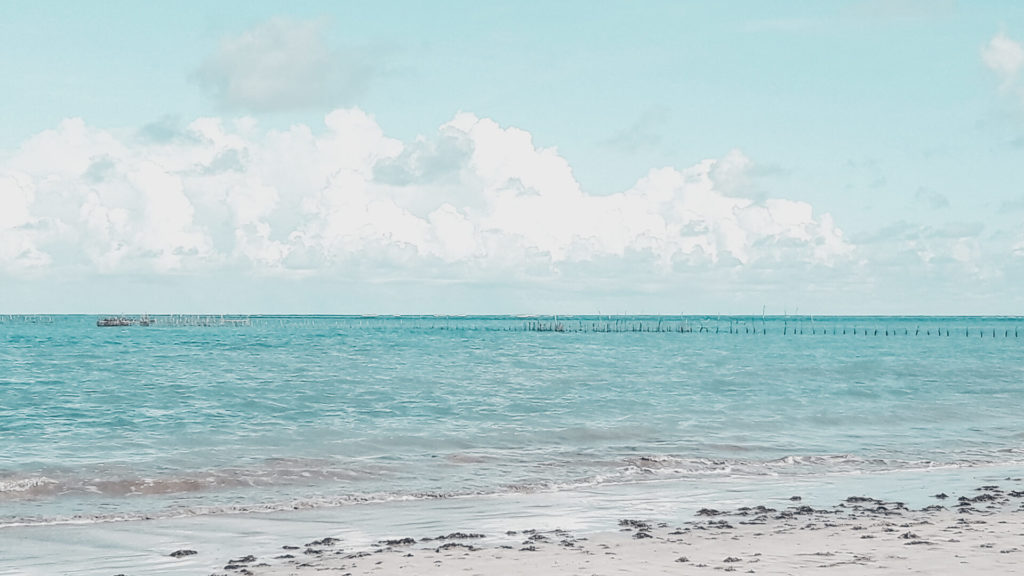 I arrived in Maceió alone, but not much later, I had already met an amazing group of people on the hostel. We heard about São Miguel dos Milagres and we agreed on going on a little camping adventure. So we pack a few things, went to the bus terminal and bought the van tickets. We then proceeded to experience an "introduction to a hippie lifestyle" by spending the day at the beach, making a bonfire at night, and enjoying the full moon before sleeping under the stars. It was amazing.
São Miguel dos Milagres is the paradise definition. It's everything I've ever expected from a beach and more. Blue crystalline sea, natural pools with colorful fishes, a lovely coral barrier, and lots of palm trees all around. You can arrive in São Miguel by taking a bus/van from the bus station as I did, or you can buy a ticker for a day-tour leaving from Maceió. If you choose to go on your own, keep in mind the trip lasts around 3 hours, so either you go early or stay and spend the night. There are some great accommodations in São Miguel dos Milagros and you can check them out here on Booking.
Admiring the sunset at Pontal da Barra
During my time in Maceió, I stayed at a hostel at Pontal da Barra. It's a quiet neighborhood located between the Pontal beach and the Mundaú Lagoon. It is famous for holding a Handicraft Center, and also privileged by its amazing sunset view.
There is a bus departing from the bus terminal every hour, but as it stops at so many places, it takes a long time to arrive from the city center to this neighborhood. I recommend you to use the Uber app or simply take a taxi to arrive.
It's also a good idea to go on the 9 islands tour. Besides the charming landscapes, you will be able to visit Ilha Carlito, a small picturesque island in the middle of the Mundaú Lagoon. Be aware though: the tours normally leave early in the morning.
Enjoying the nightlife
Maceió has an amazingly agitated nightlife. So I wanted to give you a few options in this travel guide to Maceió.
If you want to spend the night close to the beach, choose Jatiuca, Ponta Verde, and Pajuçara. These are neighborhoods where you will find an extensive variety of bars and clubs.
The Stella Maris and Jaraguá neighborhoods are also great options, as the offer streets full of bars and nightclubs of different styles. In Jaraguá you fill notice more a bohemian vibe, while in Stella Maris it's going to be easy to find from electronic music to Brazilian typical forró.
Maceió Travel Guide: Accommodation
How is it that I spend a month in Maceió? It was all because of a hostel. I booked for 2 nights before arriving, but it turned out they were looking for volunteers, so I stayed longer for free.
Unfortunately, the place I stayed at doesn't exist anymore. It was called Proxima Estación Hostel, and it was located at the Pontal da Barra neighborhood. Its owner, Juan, recently opened the Proxima Estación Pousada, a more evolved version of the previous accommodation, in a different location. It's a great option if you are traveling with a partner. Check Proxima Estación Pousada's availability here.
But, if you are traveling alone, hostels are the best way of meeting new people and making friends. Maceió has a wide variety of hostels, and you can check them out here and choose your favorite option.
So there you go! Now you know everything you need to know before visiting Maceió. You can start planning your backpacking adventure.
As always, if you have any comments or questions, feel free to use the comment section below. See you soon with more maps and words!
Have a great adventure!