Between the dunes and the sea, lies a town that seems to be lost in time. It's located 300 kilometers away from Fortaleza, in the northeast Brazilian state of Ceara. Beautiful beaches and the best sunset in Brazil are waiting for you to discover them. So let's talk about what to do in Jericoacoara, how to arrive, where to stay, and everything you need to know before going to this magical place. Welcome to our complete Jericoacoara travel guide!
Jericoacoara Travel Guide: Arriving
I arrived at Jericoacoara in October 2017. The plan was to spend some days there with a few friends that were going on vacations, but I fell in love with the place and ended up staying almost 3 months.
If you love nature, water sports, and enjoying the beach during the day and even during the night, you will fall in love with Jericoacoara too.
There are no pavemented streets in Jericoacoara, so the only way to arrive is by authorized 4X4 vehicles. These cars leave from Jicoca, a nearby city. And the easiest way to go to Jicoca is from Fortaleza, the capital city of the Ceara state.
You can arrive in Fortaleza either by plane or by bus from all the other big cities in Brazil. Once in there, you can book your transportation by bus to Jijoca and by traction car from there to Jericoacoara.
If you buy the tickets separated, it may cost you less than if you buy the whole way at once. The cost of the whole trip to go is around 30$.
Jericoacoara Travel Guide: Accommodation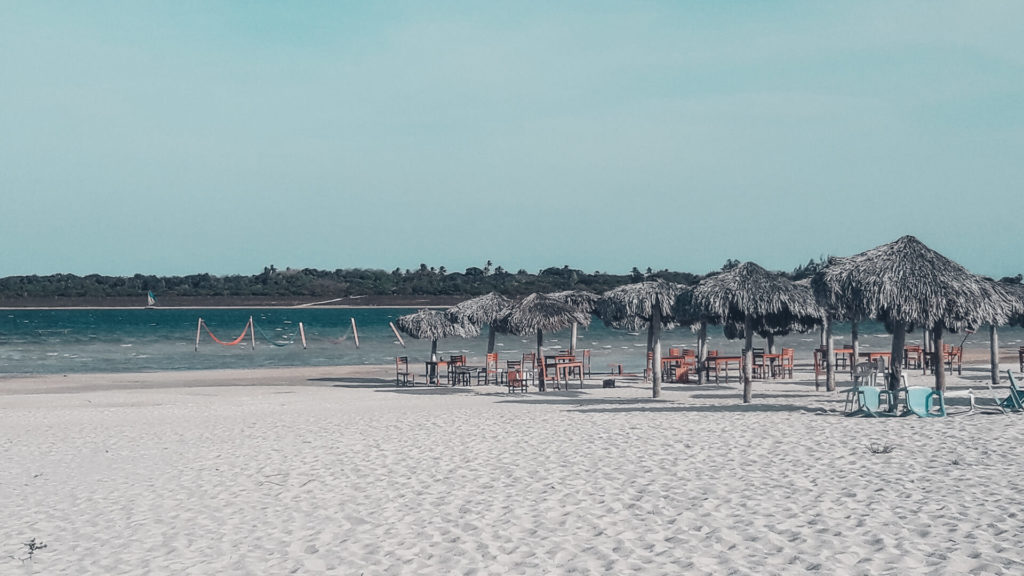 Even though Jericoacoara is a really small town, there are plenty of options when it comes to accommodation. From small comfy hostels to luxury hotels, you can choose your favorite option here.
As always, if you are traveling alone or with a small group of friends, I recommend you to stay at a hostel. The Hostel Om Jericoacoara is a great option. It has comfortable shared and private rooms, a kitchen for you to use, and great common spaces. The best of everything: the staff. The prices are around the 5$ in dorms and 35$ in privates for two persons. A great breakfast is also included.
The Mandala Hostel is also a great choice. I didn't stay there myself but I made some friends that did and they recommended it. They organize small parties from time to time, so the youth vibe is assured. You can check out its prices and photos here.
If you want to choose another option in Jericoacoara, you can click on this link to check out all the accommodations in town.
Jericoacoara Travel Guide: Things to do
Activities and tours
Jericoacoara is famous for its beaches, but there is a lot more for you to discover. For example, the Lagoa do Paraiso is a gorgeous blue light lagoon where there are hammocks immersed in the water.
To visit it, you can book a tour that will leave from the main street or pick you up from your accommodation. You will pay for the full-day tour, which includes lunch, transportation, and a guide. If you want to spend a little less, you can also go by yourself just taking a traction car in the main street. Once in the Lagoa, you will find lots of restaurants and bars to spend the day.
If you are into water sports, Jericoacoara is the place for you. Kitesurf and windsurf are both practiced in the place, and you can find introductory lessons if you want to learn from scratch or even rent the equipment if you have the experience. There is also surf, stand-up paddle, and kayak for you to enjoy.
Among the main attractions in the village, there are a beautiful lighthouse, an ancient church, and a handicraft market you have to visit.
Don't forget to go watch the sunset at the Por do Sol dune. Jericoacoara is one of the only places in Brazil from where you will be able to see the sun setting directly over the sea. It's quite a beautiful show. And since you are there, why not joining the capoeira crowd on the main beach and have a little fun while learning more about the Brazilian culture? You will love it.
Beaches
There are two principal beaches in Jericoacoara. The main beach is the one where all the sandy streets end up at. This beach is where most of the tourists and locals spend their days. The main beach is a great spot to watch the sunset also, and it's full of restaurants and bars where you can have a drink while enjoying the show.
The second beach is called the Malhada, and it's located behind the hill that rises at the left of the town. This beach is normally far more empty and it has more of a virgin-like look.
Between both beaches, you will find the Pedra Furada, a giant rock with a hole in the middle where everybody goes to take the most iconic picture of the village. Go with patience, because normally there is a waiting line for taking a good picture there.
Nightlife
Jericoacoara is a quiet town most of the year, but in the high season, it gets crowded. Tourists from Brazil and all over the world choose this destination for spending the "Revellion" or new year's eve, so during that week, the party is pretty much everywhere around.
But tourism is growing every year, so even when there is not high season, you can find lots of places to enjoy at night.
If you are looking for an after sunset party, one of the places to go to is Hurricane. It's a club at a hotel terrace, where electronic music is always brought by different DJs along with amazing shows and great drinks. The best of all: the entrance is free.
For later at night, most people go to the main beach, right in front of the main street, to what they call the "caipirinhas". Pretty much every beverage selling cart in the town gathers around. They form a circle in the middle, for the people to dance in. This option is also free. And it's often the more animated one.
If you want to dance some typical Brazilian rhythms you can go to Espacio Serramar. They offer different styles of live music: forro, samba, pagode, and more. At Serramar, you will have to pay a cover fare to enter. Trust me: it's worth it.
So there you go. Now you know what you need to know about Jericoacoara beach. If you have any questions or suggestions, use the comment section below. Feel free to share this post with other travelers. I'll be back soon with more maps and words.
Grab your backpack and let's go. Jericoacoara is waiting!