There's no point in denying that Rio de Janeiro is one of the most beautiful and touristic cities in the whole world. But unfortunately, not many travelers have heard about Buzios, a beautiful peninsula located 170 kilometers away from the famous Brazilian metropolis. And that's such a shame! Armação dos Buzios is one of the best beach destinations in Brazil, and you shouldn't miss it for the world. Keep reading to discover everything you will need to know to enjoy your time in this fantastic city. Welcome to the ultimate travel guide to Buzios!
Travel Guide to Buzios: Arriving
Arriving at Buzios is very simple. Assuming you are in Rio de Janeiro, you will have 3 main choices to reach the peninsula.
By bus
Most travelers decide to travel to Buzios by bus. And it makes perfect sense since it's the most economical and easiest way. The distance between the two cities can be completed in around 3 hours.
The company that provides the bus service between Rio de Janeiro and Buzios is called 1001. They have several departures daily, but you should book the tickets in advance, especially in high season.
The tickets go from 10 dollars to 20 dollars, depending on the time of the day and the bus kind. Make sure you check the availability on this page.
Unfortunately, there is a small issue. To purchase the ticket online you will need to provide a CPF number, which is something foreigners don't have. So you will most likely have to get to the bus station in Rio to buy them in person.
By plane
The nearest international airport to Buzios is in fact the Galeao Airport, in Rio de Janeiro. But if you are already in Brazil, there's another airport closer to Buzios, the Cabo Frio Airport.
Funny thing, that airport is also international, but it only offers limited flights, with limited companies and from limited destinations.
Some people choose to fly to Cabo Frio and then hire a transfer, take a bus, or maybe a taxi to travel the 24 kilometers that separate it from Buzios.
The approximate duration of a flight between Rio de Janeiro and Cabo Frio is 40 minutes. Once there, traveling to Buzios by car will take you approximately 40 more minutes. So, in the end, you would be cutting the travel time in half.
Renting a car
There's one more option you will have to arrive in Buzios, renting a car in Rio de Janeiro, and driving the 2 and a half to 3 hours that separate you from your destination.
You will find several companies offering car rentals in Rio de Janeiro, especially at the airport.
The requirements are pretty easy to meet. You will need a valid Internation ID, like your passport, your original driver's license, a credit card, and the entry stamp to Brazil (proving that you had not exceeded the allowed time for your stay in the country).
This could also be useful to enjoy your time in the peninsula, since, despite what you might think, Buzios is pretty big, and sometimes having a car to use whenever you need can make things a lot easier.
Travel Guide to Buzios: Things to do
Beaches
Buzios is mainly a beach destination. So, of course, going to the beach is the first thing on our to-do list. But you should know there are around 23 different beaches in Buzios!
So let me tell you a little bit about the best beaches to visit while you are there. And, especially, which ones are the ones that you shouldn't miss.
João Fernandes and João Fernandinho
João Fernandes is definitely the most famous beach in Buzios. Surrounded by luxury and charming hotels and inns, it offers a beautiful clear calm water perfect for practicing stand-up paddle, kayak, or snorkeling.
João Fernandinho is the beach right beside it. The tide and the water are pretty much the same, but it is a little bit smaller and a little less crowded.
Both beaches are absolutely gorgeous. They are a slice of paradise during the low season, where you can go to bathe in the sea and relax drinking a caipirinha in one of its many beachfront restaurants and bars.
But I wouldn't recommend you going during the high season (from November to March). The sand strip is very narrow, and with so many people it's impossible to find a place to lie in the sand. When that happens, your only real option is sitting at one of the kiosks and paying the rent for the chairs and umbrella.
Another thing you should know: João Fernandes is the most expensive beach to eat and drink in the peninsula.
Azeda and Azedinha
Azeda and Azedinha are also "twin" beaches, located very close to João Fernandes, almost at the tip of the peninsula.
To access Azedinha you will first have to reach Azeda. The access to this beach is through wooden stairs, from where you will have a great visual of the beaches.
Same as João Fernandes and João Fernandinho, the tide here is pretty calm, the water is clear, and it's a great place for practicing snorkel and discover beautiful colorful fishes near the corals.
Both in Azeda and Azedinha, there aren't restaurants or bars structures, so if you are planning to spend the day, I recommend you pack your own lunch. You will be able to find some drinks, as sellers and improvised karts do are easy to find.
They also have the same downside: the sand strip is extremely narrow, so I don't recommend you going during the high season.
Tartaruga
If you have some Portuguese notion, you will now be guessing what this beach is all about. Praia da Tartaruga means Turtle Beach, and, as its name says, it's a good place to spot these fantastic animals.
Tartaruga is also one of the most beautiful beaches in Buzios, and definitely a must when visiting the city.
It's bigger than the previous beaches I mentioned, so you will definitely find a place to lie on the beach or will be able to sit in one of its many restaurants and kiosks, independently from the time of the year.
Depending on the day, the weather, and the tide, sometimes you will be able to enjoy a few waves, and sometimes the sea will be almost entirely calm.
On the right side of the beach, you will be able to rent some snorkels and swim between the corals to enjoy the fantastic sea life.
Geribá
Geribá is my favorite beach in Buzios, perhaps because I worked there during two whole seasons, or perhaps because it's so much bigger and different from all the other ones.
Located a little bit far from the city center, it is the longest beach on the peninsula, with an area of ​​approximately 2 kilometers long from side to side. It also has the widest strip of sand and the best waves in the area for surfing.
All along Geribá, you will find several restaurants, bars, and kiosks to have a drink, have lunch or simply spend the whole day relaxing under an umbrella. Most of them exchange the chairs rental for lunch, some of them demand you spend a minimum amount, and some others simply rent you the chairs and umbrella for a fixed price.
It's important to mention that Geribá is one of the cheapest beaches in Buzios both to eat and drink. For that reason, and because you will always find free spots, it's the favorite beach of most locals.
The view Geribá has is also amazing, horseshoe-shaped, surrounded by hills and with lots of green around it. Definitely, worths checking it out.
Ferradura and Ferradurinha
Ferradura is another beautiful beach, located at a few minutes-walk from Geribá beach, going towards the center of the city.
As its name says, it's also horseshoe-shaped. It's also surrounded by hills, summer houses, and luxurious condos and inns: and the visual it's a little bit similar to Geribá, though it's smaller and it doesn't have big waves.
It's one of the most frequented beaches in Buzios. But it's still bigger than the beaches at the tip of the peninsula, so you will find a free spot even during high season.
Ferradura also has great kiosks and restaurants structure, so you will have plenty of options to sit under an umbrella and enjoy a full beach day.
Ferradurinha is not exactly next to Ferradura, but it is relatively close. As its name says, it's kind of the "smaller sister" of that beach. And by smaller, I mean a lot smaller: it has only 100 meters of extension.
Ferradurinha is a beautiful bay with fine sand and crystal clear and cold waters, which vary in shades of blue and green. It is surrounded by stone hills, where you can climb to have a wonderful view of the beach and the open sea. It is also very common to see sea turtles swimming very close to the beach, so it is also a great place to snorkel.
It's also a great place to rent a kayak or a stand-up paddle. And after the exercise, there are several simple kiosks where you can have some drinks, snacks, and use the chairs and umbrellas.
Canto, Armação and Osos
The beach that is located right next to the city center is called Praia do Canto. The tide at this beach is normally calm, which gives the impression of being in a natural swimming pool.
Even though it's located in the city center, it doesn't have such a wide offer of restaurants, kiosks, or bars. Instead, it is a very quiet beach, perfect to take a bath in the sea without sellers or other people around.
The water is pretty clear and warm, even though the main pier is located on this beach. From there, tour boats and boat parties leave every day several times. It is also a great place to enjoy the sunset.
After the pier, towards the end of the peninsula, you will find the boardwalk know as Orla Bardot. The beach that extends from there until the boardwalk end it's called Praia de Armaçao. It's not a good beach to swim in. In fact, there's almost no sand strip. But it is a charming looking beach full of fishing boats and cruise ships, perfect for a few sunset pictures.
At the end of Armação Beach, behind a small colonial church, you will find the lovely Praia dos Osos.
Osos is also one of the most famous beaches in Buzios. It's a truly small beach, where the sand strip is also narrow. The water is calm and clear, and the small fishing boats give it a charming look.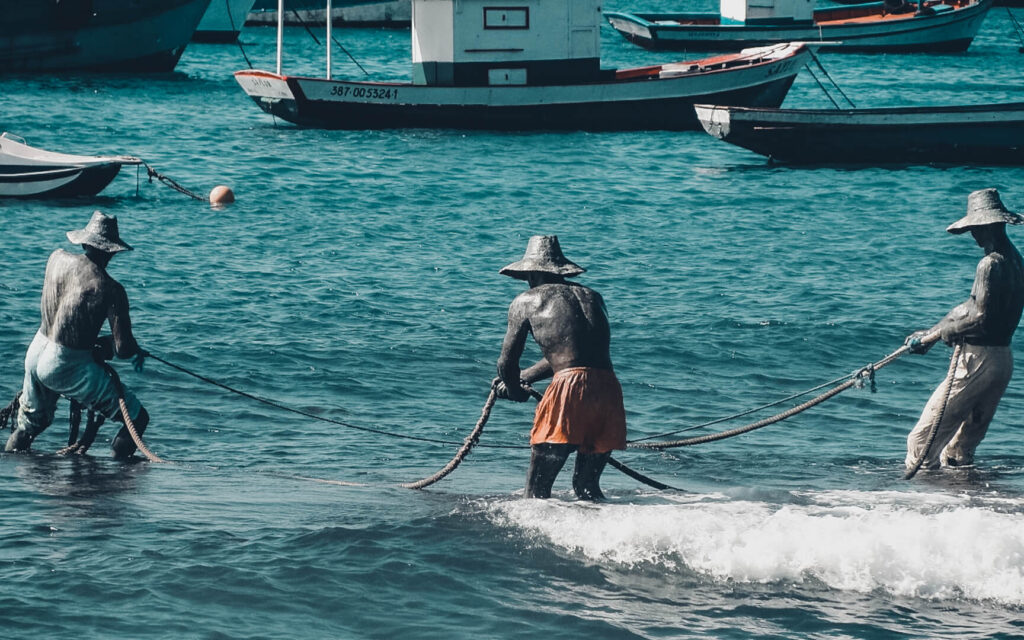 Orla Bardot
As I mentioned above, the Orla Bardot is the boardwalk that goes from the pier, in the city center, all the way to Sant'Ana church, where Praia dos Osos begins.
It was named after the famous Brigitte Bardot, a French actress that fell in love with Buzios back in the 60s. The locals appreciate her for having put Buzios on the map, and they honored her with a statue.
Walking along the boardwalk is a great plan at all times of the day. But it's definitely more beautiful during sunset. You will then be able to appreciate a stunning view and take some amazing pictures.
Rua das Pedras
Rua das Pedras is the main touristic spot, and it can't be missing in any good travel guide to Buzios. It's the city center's soul, full of restaurants, bars, and all kinds of stores.
It's roughly 600 meters long, but it actually concentrates a lot of movement, especially during the night. If you consider all the parallel and perpendicular streets to it, the walk is much more extensive.
These blocks all together work as a great entertainment area. A real open-air mall, with beautiful people, good music, and lots of options for fun.
You can find almost everything in Rua das Pedras. From cheap snacks to gourmet restaurants, and from cozy bars to crazy nightclubs.
Porto da Barra
Porto da Barra is a luxury gastronomic pole, located on the shores of Manguinhos beach. I need to say that Manguinhos, as a beach, is nearly nonexistent, since there is practically no strip sand at all.
Porto da Barra is definitely a must on this travel guide to Buzios. But not so much for eating there, as the prices are extremely high. Still, it's a great spot to enjoy a fantastic sunset or even to visit during the night.
If you are not on a budget, then going to have lunch or dinner at one of many Porto da Barra's restaurants is a greatly romantic plan. If you are, perhaps it is also worth indulging in a little excess and sitting in one of its bars to have a drink and enjoy the fantastic view of the afternoon hours.
Hiking
Besides its beautiful beaches, Buzios has a lot to offer nature wise. For hiking lovers, it's one of the best destinations in Brazil.
There are several hiking trails to discover all around. You can easily choose one of them and spend a few hours walking in nature, enjoying amazing landscapes and experiencing the adventure.
One of my favorite trails is the one that leads you to the Morro das Emerencias Lookout. It's a relatively easy hike, that will take around 1 hour to complete. To arrive, you will have to take one of the minibusses that leave Buzios until Tucuns Beach. Once there, you can ask around and find the trail entrance on the right side o the beach.
I assure you, when you reach the lookout, you will be amazed. A stunning panoramic view of the peninsula of Búzios, the open sea, and Cabo Frio is more than a fair reward for the effort.
Ponta do Pai Vitorio is another cool place to go for hiking. It's located just outside Buzios, near Rasa beach. It's an easy 10-minute walk that will lead you to a fantastic lookout.
Make sure to ask around, and I'm sure you will find several treks and trails to have a great time exploring the outdoors.
Arraial do Cabo
Arraial do Cabo is known by the locals as the Brazilian Caribbean. And it's easy to see why. Its amazing crystal clear water and the whitest sand ever make it one of the most beautiful beach destinations in Brazil.
There is, though, a small difference: the seawater in Arraial do Cabo is freezing!
Arraial is a small and quiet city, located approximately 1 hour away by car from Buzios. It's definitely a mandatory item on any travel guide to Buzios.
You have mainly two options to get to know Arraial. The first one, taking a full-day tour, that can leave both from Buzios, or from Rio de Janerio. The second one, going by yourself.
Since I spent around 1 year in Buzios, I had time to spare and money to save, so I always went by myself. It's really simple, and it will probably save you some good dollars.
You will have to take a bus on Buzios's main road that costs less than 1 dollar and takes 1 hour, 20 minutes. Once in Arraial, you will get off the bus at the main pier and you'll find several companies offering the boat tour around the beaches and islands. My advice? Take it! It's totally worth it.
You can check out the schedule on buses to and from Arraial do Cabo here.
Nightlife
Buzios is not all about the beach. There's a lot more to do in the city, and enjoying the nightlife is one of them.
Most of the night action concentrates on Rua das Pedras and Orla Bardot. So if you decide to go there, it's easy to find all kinds of bars and clubs.
If you are looking to start with the fun early on, I'd recommend you to go to one of the famous boat parties. They start early in the afternoon and continue until after the sunset. Once you are back, you'll have plenty of time to have some dinner and choose your favorite bar.
If you are in the mood for a long night, there are a few cool nightclubs for all tastes. Privilege is one of the largest and most exclusive nightclubs, with electronic music and a pleasant atmosphere. However, get ready to pay an expensive entrance.
Of course, all year long, you will find several options. But things get even crazier on weekends, holidays, and high season. During those times, the party is pretty much everywhere. A good place to start is the Tao Bar. From there, just follow the music!
Travel Guide to Buzios: Where to stay
There's a truly wide offer of hostels, inns, and hotels for all budgets and tastes in Buzios. As I always say, if you are a backpacker, a hostel might be the best fit for you.
I recommend you to check out the Che Lagarto Hostel. The Che Lagarto is part of a hostel chain, pretty well known in South America. It's located right in the city center, one of the best places to be at. It has a cool atmosphere, a fun bar, and a nice swimming pool. Definitely a great place to make friends if you are traveling alone. You can check out its prices and availability here.
Besides the city center, Geribá is another cool neighborhood to stay at. Even though it's a little farther away, it still has lots of services and easy access, and it's one of the favorite neighborhoods for young travelers.
If you want to give Geribá a chance, check out Yolo Hostel. It's a great party hostel, a little cheaper than the Che Lagarto. It also has a cool bar and a nice swimming pool, and it's located a few meters away from the main avenue and at a 10-minutes walk from the closest beach.
You can check out all the accommodations available in Buzios at this link.
Travel Guide to Buzios: Tips and Advice
We are coming to the end of this travel guide to Buzios, and I wanted to leave you some tips and advice to make sure you fully enjoy your time in this amazing destination.
Best time to go to Buzios
Buzios has warm weather throughout the year, so you could virtually enjoy its beaches at any time of the year. However, there's a small temperature difference between July, the coldest month, and January, the warmest.
In July, the average temperature is 23 C, while it's 28 C in December. You'll see why the winter doesn't really prevent you from enjoying the beach. However, during August and July, the winter does get a little bit stronger.
Keep an eye on the rainy season, that goes from November to December, just before the high season starts.
How to move around in Buzios
Moving around in Buzios is not hard at all.
If you rented a car, you will have an advantage, since the beaches and other places of interest are distant from each other. However, it could turn into a nightmare if you are in Buzios during the high season. The main street fills up with cars and traffic jams are common.
If you are on your feet, then get ready to walk! Although minibusses are leaving all the time from the center of Buzios to the exit and vice versa, they only move along the main avenue. So every time you want to go to a beach, you can take these minibusses to get "close" to your destination, but inevitably you will have to walk the last meters or kilometers.
The good news is that Búzios is a safe city, and you can walk at any time of the day without having to worry.
How long should you stay in Buzios?
That's a personal choice, obviously, and depends on how much time you do actually have for your travel adventure in total.
I guess the perfect amount of time would be around a whole week. That will give you time to go to all the main beaches, Arraial do Cabo, and truly get to know Buzios as its best.
As I mentioned before, I spent almost a whole year in Buzios, and even came back on several occasions. I can't help it, I just love it!
So, do yourself a favor, and make sure you include Buzios on your Brazilian itinerary. Let me know in the comments how it went.
Have a great adventure!