Is it possible to travel the world without spending a lot of money? Of course, it is! No matter where you want to go or for how long, you don't need to be rich to travel. If you are thinking about start living your backpacking dream but the money gets in the way, then this is the article you need to read.
Is your intention to learn new tips to travel on a budget? We gathered here all the information you will need.
15 Top Tips to Travel on a Budget
Anyone can save their year's earnings and go on a short vacation. But if you want to travel more, maybe get to know a whole country or continent, or make your adventure lasts longer, then you will have to be wise about your expenses.
My partner and I have been traveling for a long time now. Almost 2 years together and even more time separately before. But no, we are not rich! We just follow these simple tips to travel within our budget.
Budget Tip 1: Compare rates and choose low-cost airlines
The first step when planning your trip is finding a destination. Of course, depending on where you are and where you want to go, the plane ticket prices might differ a lot. But once you establish your budget and have your destination in mind, make sure you compare different ticket rates before choosing one.
We use Skyscanner, as it allows us to examine all the main company's fares on one unique click. It also has a great function to select the full month you are interested in traveling at, or it can even show you the cheapest results on a one-way or round trip ticket, regardless of the dates. So if your dates are flexible, you will be able to plan your trip accordingly to the cheapest dates.
Low-cost airlines are a great option for traveling shorter distances. Since they don't include checked luggage, the fares are considerably lower than regular flights. But if you have to pay for the luggage separately, it may not result as cheap. This leads us to the next tip: pack light.
Budget Tip 2: Pack light
Traveling light is always smart. No one wants to carry around its own weight on its back. And I'm sure no one wants to pay extra money on planes or buses for having too much stuff.
For a comfortable backpacking journey, you won't need much anyway. Make sure you pack accordingly to your destination. I mean, if you are going to a tropical place, a flip-flop pair, a pair of comfy walking shoes, a few t-shirts and shorts, 7 pairs of underwear, one or two long pants, and a few light jackets should be more than enough. Electronic devices might occupy most of your backpack, and that's ok.
So be wise and pack only what you will need. That way, you will be more comfortable, feel freer, and save money at the same time.
Budget Tip 3: Don't exchange your money at airports
Try to never exchange currency at airports, as they normally will give you a much worst rate. Sure, sometimes there's no way of helping it, like when you just arrived in a new country's airport and you need money for a ride. When that's the case, try to exchange just what you will need to arrive at your destination.
Instead, it's a great idea to exchange money with travelers you meet along the way. Cities located at the country's borders are perfect for this. Maybe you will meet someone coming from the country you are going to, and you both could benefit from the transaction.
If you can't find any traveler to exchange money with, extracting money from ATMs it's always a good idea too. The currency exchange rates will be much better this way, and you won't lose as much money.
Budget Tip 4: Use rideshare platforms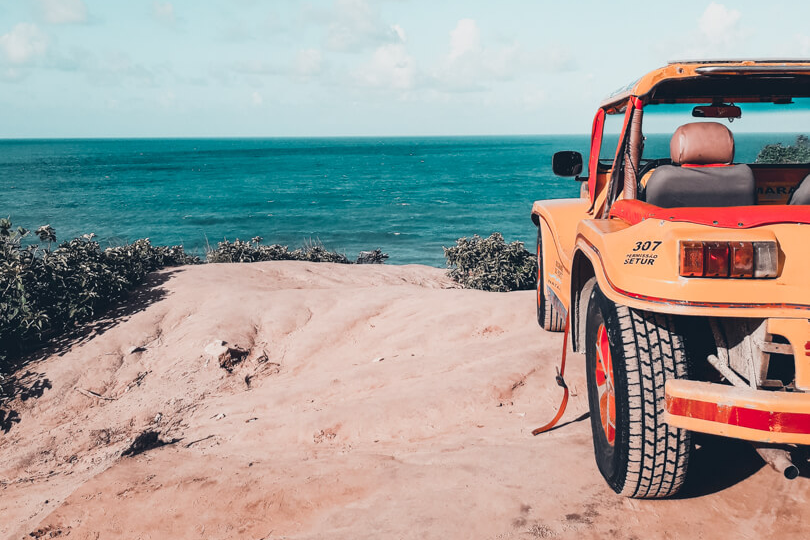 On my trips around Brazil, I have often used a platform called Blablacar. It allows you to search for a path you are interested in making and shows you if anybody is looking to share the travel expenses by car.
This kind of platform helps you reduce transportation costs by nearly half. Besides, you will meet new people, mostly locals, and have a great story to tell.
Blablacar is free, is safe and it's available in many countries. I absolutely recommend it. You can check out other useful travel apps here.
Budget Tip 5: Avoid Tours
Don't get me wrong here. Some tours are definitively worth paying, as they might be the only way to going to a place. That is the case of the Lost City Tour in Colombia, for example.
Other tours, you could skip. Let's say you are in a big city and want to go to a nearby place. People on vacation will probably buy a full-day tour including the round way ticket and maybe some lunch choice. And that's perfectly fine for them!
But when you travel on a budget, you might just make a little more effort to find information about that place, and use public transportation to arrive there on your own.
Make sure you ask for all the details you will need at your accommodation's information desk.
Budget Tip 6: Use Booking's loyalty program benefits
Booking has a great loyalty program for its users.
It's the Genius level system, and it consists of rewarding the more active users. The more reservations you make, the bigger discount you will have.
There are currently two levels in the Genius program. To access the first level, you will have to complete at least 2 reservations over a 2 years period. Once achieved, you will receive a 10% discount on selected accommodations all over the world.
But if you complete 5 reservations over a 2 years period, you will become a level 2 Genius. That will give you a 15% discount on the rate, free breakfast, and a free upgrade to a better room in selected accommodations all over the world.
It's a pretty great deal. What are you waiting for?
Budget Tip 7: Stay at hostels
I think I said this before: when we travel, most of our budget goes into two main items: transportation and accommodation.
Hostels are a great wallet-friendly option, as they offer shared dorms for people traveling alone or small groups, at a cheaper rate than private rooms.
Hostels were born as youth accommodations, so it makes sense that they are normally cheaper than regular hotels. They are also a great place to stay if you want to make new friends!
Most hostels also have a kitchen where you could cook instead of buying expensive meals outside. This leads us to our next tip to stay on a budget: cook your meals.
Budget Tip 8: Cook your meals
Of course, going out and having dinner at restaurants is great. But if you have a budget to adjust to, you should try to cook more and eat out less.
But please don't take this advice as an excuse not to try typical dishes! I absolutely recommend you try as much local food as you can.
That doesn't mean either that you can't pamper yourself from time to time and go to that place that seems amazing. It simply means you shouldn't do it every day.
So gather around with more people, cook together, and share the meal costs. Besides being a great excuse to spend quality time with others, the more of you eating, the cheaper eating will be.
Budget Tip 9: Visit the local markets
In most South American countries, local markets have better prices than supermarkets.
Local markets are always a good idea. If you buy your cooking supplies there, you will save money and you will be contributing to the economy of small entrepreneurs.
Besides, you will know more about the local's alimentary habits, and you will discover new fruits and vegetables that perhaps you did not know before.
Budget Tip 10: Volunteer at hostels
Even better than paying a real cheap stay, it is not paying anything at all.
Volunteering at hostels is one of the main things that kept us on the road for so long. We have been able to save uncountables amounts of money just by doing this.
What does volunteering mean? It means that, instead of paying for accommodation all the time, we sometimes exchange our time and skills to get free nights at the hostels we stay at.
Pretty much any traveler can find volunteer opportunities to reduce travel expenses. You could offer yourself as a receptionist, bartender, photographer, graphic designer, or even as an English teacher.
If you want to know more about it, you can read this post on how to volunteer at hostels.
Budget Tip 11: Keep working remotely
This tip to travel on a budget is kind of self-explanatory. The fact that you are going abroad doesn't mean that you have to abandon your profession.
A lot of jobs can be done remotely nowadays, so not only you won't need to go to the office every day, but you could also be working from any place in the world.
This doesn't match your possibilities? Then it might be time to go freelance. What are you really good at? Do you write, design, develop, translate? Maybe you have a great skill waiting for you to exploit it.
There are also lots of jobs you could apply to travel and work at the same time. For example, have you ever considered joining a cruise ship? I have! And I tell you all about it in this article about what working on a cruise ship is really like.
Budget Tip 12: Work at your destination
This is how I first started traveling. The first time I left with my backpack I had somewhere around the $500. And I was planning to get from Argentina to Mexico!
So at my first stop, Brazil, I had to find a job. Surprisingly, It wasn't hard at all. Turns out, when you are in a tourist destination in high season, it's not hard to find jobs as a foreigner in South America. I did the same in Peru and Colombia, there was always an opportunity available!
The best fields to look for seasonal jobs are hospitality and gastronomy. Bars, restaurants, and hostels are constantly looking for people from all over the world to fulfill different roles. You could work as a waiter/waitress, bartender, barista, receptionist, etc.
We talk more about this in this article about how to make money while traveling.
Budget Tip 13: Hitchhike
This is a great way of traveling for the most adventurous people.
Hitchhiking in a country you don't know might sound scary. I thought the same before I tried it for the first time. Turns out, most of the people you encounter on the road are kind souls.
Sure, not everybody is nice and you may have bad luck sometime, but there are some simple tips I follow to be sure nothing bad will happen, and it never did.
So if you are considering hitchhiking, you could follow these rules too:
Never ask for a ride alone. It's so much safer if you go with a friend.
Try to hitchhike at gas stations. It's better than doing it in the middle of the road.
Before jumping into a stranger's vehicle, take a photo of the license plate, and send it to someone you trust.
Make sure you always mention to that trusted person where you are and where you are going.
Trust your instinct. If something feels off, it is probably off.
Budget Tip 14: Travel at night
If you are going to pay for a bus ticket, the best thing you can do is to travel at night.
First, because instead of paying for accommodation, you will use the travel time to sleep on the bus. You might end up a little tired, but it will be more economical than paying a day ticket and then a night at a hostel.
And besides, because this way you will have more time to enjoy your destination, as you won't miss daylight to wander around.
Check out also this post we wrote with 15 useful hacks for long bus rides.
Budget Tip 15: Travel Slower
I know, sometimes traveling for a long time just does not adjust to your reality. Maybe you have work or family responsibilities back home, and you can't spend a year of your life abroad. Even when you would love it, right?
Anyway, the concept of traveling slower can be adapted even to a short backpacking time. Let's say you have 2 months and you want to go to South America. And let's say you want to go to every country you can: Argentina, Bolivia, Brazil, Peru, Ecuador, Colombia.
If money it's not a problem, then you are fine. You will buy plane tickets and jump thousands of kilometers in a few hours. But when you travel on a budget, it's better to choose fewer places to see. Maybe narrow it down to Argentina, Bolivia, and Peru, or just visiting Brazil this time and leaving the rest for some other occasion.
If you concentrate in one place and you dedicate more time to the places you will visit, you will end up spending significantly less. Why is that?
First, you won't buy expensive airplane tickets. You will have time to compare rates and choose the best deals. Also, you might realize it would be cheaper to go by bus, even when it takes longer. Because you aren't in a hurry anymore!
You will even have time to volunteer at one of your destinations or two. That will allow you to pay for less night's accommodation. You will also have more time to get to know the city, so you can avoid the tours and just go at your own pace.
See, in the end, all of the other tips fit in just this one. When you travel slower, your budget can really stretch.
Now you know 15 useful tips to stretch your budget. But if you are still on the plannification stage, we recommend you to read this post we wrote about how to plan a travel budget from scracth.
Have a great adventure!