Itacaré is one of the most beautiful beach destinations in the Brazilian Northeast cost. Located in the Bahia State, approximately 270 kilometers away from Salvador de Bahia, this beautiful fishers town is growing every year, getting more and more visits from young backpackers and travelers from all around the world. Get ready to discover everything you need to know about it in this complete travel guide to Itacaré for backpackers.
Travel Guide to Itacaré: Basic Information
First thing's first. There is some basic knowledge you should have before planning your adventure in this incredible destination.
Let's start with the weather. Itacaré is a warm place, and its temperature remains pretty much the same throughout the year. Its rains are well distributed also, which means you can face several rainy days at any time of the year. Between August and October, rain a little less frequent.
However, is not common for rain to last more than a few minutes, so you will see heavy downpours that pass quickly, and the sun will shine again in no time.
The high season is another factor to keep in mind. That is, between December and March, and also in July. During those months, the city fills up with both Brazilian and foreign tourists, the prices go up, and the nightlife gets wilder. Make sure you consider this. If you are on a budget or looking for more peace than parties, you might want to visit Itacaré during the low season.
You can check out other basics, like budget, currency, and itineraries suggestions on this post we wrote for backpackers in Brazi.
Travel Guide to Itacaré: Arriving
Arriving in Itacaré can be quite an adventure. It's located 270 kilometers away from Salvador de Bahia, but there's actually not a direct way to arrive from there. So let me tell you about the options you will have.
By bus
The cheapest option is to arrive by bus. For this, you could either take a bus from Salvador de Bahia to Feira de Santana or cross with the Ferry Boat from Salvador to Bom Despacho. Whichever you choose, you will then have to take another bus to Itacaré.
If you decide to go to Feira de Santana, there are several companies that sell that path. You can use Rome2Rio to decide which one you will use. Once in Feira, the company Santana sells the ticket to Itacaré. Make sure you check the schedule ahead.
If you decide to use the Ferry Boat, you will have to go to the São Joaquim terminal. The ferry leaves approximately every hour and costs less than 1 dollar. You can check out the schedule here.
Once in Bom Despacho, the companies Aguia Branca and Cidade Sol offer busses departing several times a day. I recommend you to use ClickBus to compare the fares and book your ticket.
By plane
The nearest airport to Itacaré is the Jorge Amado Ilheus Airport. It's a domestic airport where flights coming from several main cities in Brazil land.
If you are trying to save time instead of money, flying to Ilheus might be the right choice for you. From Salvador de Bahia, the flights last approximately 1 hour. You can check out the companies and schedules in Skyscanner.
However, keep in mind that the price difference is huge, and most tickets don't include luggage, so it's not such a good option if you are traveling with a lot of things.
Once in Ilheus, you will have to take a taxi or bus to the city center, and, from there, another bus to Itacaré. The company Rota provides this service several times a day. Check out the schedule and buy your tickets here.
Travel Guide to Itacaré: Things to do
Now that you know how to arrive, it's time to tell you about the best things to do in Itacaré.
Beaches in Itacaré
As I told you before, Itacaré is gaining exposure as one of the best destinations in Brazil. When it comes to beaches, this place has several options.
Praia da Concha
Praia da Concha is the closest beach to the city center. With little to no waves, is one of the best places to enjoy the sea if you don't swim too well. It also has several kiosks, bars, and restaurants to sit and spend the whole day.
It's important to say is one of the cheapest beaches when it comes to have a few drinks and eat something by the sea.
Praia do Resende
Resende is the first beach on the road to urban beaches. A short walk from the city center separates you from this incredible paradise. With big waves and surrounded by green palm trees, this beach has a unique virgin-like landscape.
It's one of the social beaches par excellence, so it's a great place to join a football match or have a few drinks with friends.
Praia da Tiririca
Tiririca is the surfer's beach. Located right next to Resende beach, it's also a beautiful slice of paradise.
It's surrounded by rocks and palm trees as well. It also has a few great bars and restaurants to have a drink or a snack by the beach.
The waves in Tiririca are famous among experienced surfers all over the world. However, since its waves aren't easy to handle at all, it's not the best spot for beginner surfers.
Praia da Costa
Praia da Costa is the next beach on the road, located next to Tiririca. It's a much smaller beach, absolutely beautiful with its virgin look and its quiet full environment.
It's a great place to be alone and enjoy the wild sea. There aren't many tourists normally, as most people prefer going to other beaches where you can actually find bars and restaurants.
If you are planning on going to Costa, it's a good idea to carry your own snacks and drinks. Still, if you need to buy anything around once in there, you can walk a few meters to Ribeira beach.
Praia da Ribeira
Praia da Ribeira is the last beach on the urban beach's road. We absolutely have to mention it in this Itacaré travel guide. You will arrive at this beach if you keep walking after reaching Praia da Costa.
Ribeira is quite a different beach from the rest. There, you will be able to enjoy both the sea and the Ribeira River that flows into it.
It's a great place to enjoy the sea since the waves are calmer. There are lots of restaurants, bars, and kiosks where you can rent a chair and an umbrella, or simply relax while enjoying a typical dish or drink.
Prainha
Prainha could be described as one of the best-kept secrets in Itacaré, though is not really a secret. Many travelers know about this beautiful virgin beach, where there are no human constructions, only sand, the sea, and the Atlantic forest.
Arriving in Prainha is an adventure in itself, especially for hikers and nature lovers. It's a 45-minutes walk through the forest. The path starts behind Praia da Ribeira, and you can perfectly do it by yourself since it does not have much difficulty. However, it's a good idea to hire a guide, or going with someone who knows the way, to avoid getting lost.
The reward after the hike will definitely be worth it. A stunning deserted beach with green hills on both sides, beautiful palm trees, and thin whitish sand.
Itacarezinho
Don't let its Portuguese name fools you, "Itazarezinho" is actually a pretty large beach. With a 3 kilometers extension, white thin sand, and countless palm trees, Itacarezinho is a mandatory stop for those visiting Itacaré.
Located 15 kilometers away from the city center, you can either arrive by car or by bus. If you have rented a car, you will have to take the route that leads to Ilheus and follow the signs. Keep in mind you will have to pay for parking.
You could also take a taxi or a bus to arrive. The buses depart several times a day and will leave you at the beginning of a path to the beach, which will take you approximately 30 minutes to complete.
Besides its virgin-like look, its great waves to surf, and the beautiful palm trees decorating the landscape, you will also be able to enjoy a small waterfall of fresh water.
So don't miss this beach!
Engenhoca
Praia da Engenhoca is one of the other beautiful deserted beaches in Itacaré. Its beautiful scenery is composed of lots of palm trees, surrounded by green hills and a blue wavy sea.
It's a great place to make friends since it's another social beach par excellence. Surfers and young people frequent this beach even during the low season, so even though it's not an urban beach, you won't be alone there.
To arrive, you will have to take a bus or taxi and ask the driver to let you off at the beginning of the trail, located approximately 15 kilometers away from Itacaré's city center. The trail will take you around 20 minutes and it's not difficult at all.
Havaizinho
Havaizinho beach is located near Engenhoca, and the access is by the same path. Surrounded by coconut palms and with strong waves, its natural beauty makes it one of the must-see beaches in Itacare.
Even though it has strong waves, it's not of the favorite spots for surfers. But it's still a great place to relax at one of its many kiosks and have a cold drink while enjoying nature.
When visiting it, make sure you climb a little bit of the hills on the sides to appreciate a stunning view. It's also a good idea to visit the Cachoeira do Tijuípe on the same day since it's located just 8 kilometers away.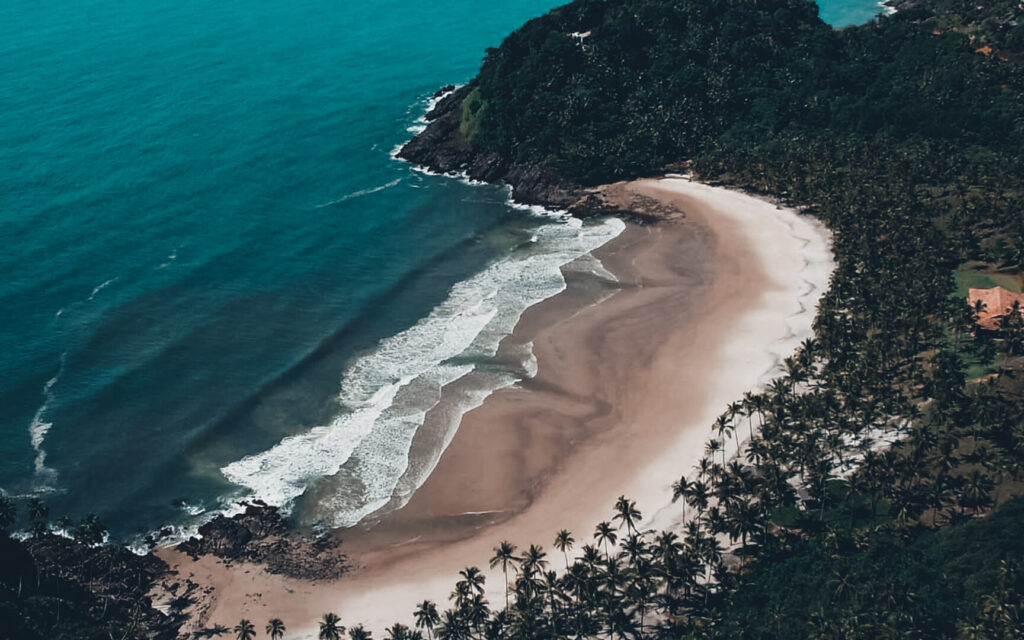 Tours and activities in Itacaré
Itacaré is a lot more than just a beach. There are several different tours or activities you could enjoy while visiting the city, pretty much for every taste and budget.
So, in this travel guide to Itacaré, we want to talk to you about some of the best ones.
Waterfalls
If you decided to visit Itacaré, you are probably a nature lover. So, besides enjoying the beautiful beaches, you might be interested in enjoying some of the cool waterfalls this place has to offer.
There are over 8 waterfalls in Itacare, and with plenty of time – and money – you could visit them all. But if you have to choose, I recommend you to consider Cleandro, Usina and Tijuípe.
The Cachoeira do Cleando has 3 falls and a nice natural swimming pool. It's one of the most visited waterfalls in the region, since, besides being gorgeous itself, the path to arrive is also beautiful. You will have to hire a guided tour, or at least, a boat ticket from Rio das Contas. Keep in mind that there's also a fee for the entrance.
The Cachoeira do Tijíupe is another amazing waterfall, that has approximately 4 meters high. It also has a great natural swimming pool. To arrive, you will have to take a taxi or bus heading to Ilheus and ask the driver to let you at the beginning of the path. A fee is also charged here.
10 km from the center of Itacaré, the trail begins to reach the Cachoeira da Usina. it is approximately 15 minutes of walking. In addition to the incredible waterfall view, you can bathe in a beautiful natural pool. Same as Tijíupe, you can hop on a bus or taxi and ask the driver to let you at the beginning of the path. It's a good idea to visit Jeribucaçu beach as well since it's located really close to it.
Rafting
If you are one of those brave travelers who enjoy a good adventure, maybe going rafting is exactly what you need to do.
You will find several agencies offering the activity. They all include the ride on a 4×4 vehicle up to the Rio das Contas in Taboquinhas, approximately 30 kilometers away from Itacaré. Once there, you will receive basic safety instructions with the equipment, and the adventure begins. Most tours also include a cool 180-meters zipline.
Keep in mind that, if you are in Itacaré during the high season months, you will have to book the tour with plenty of time.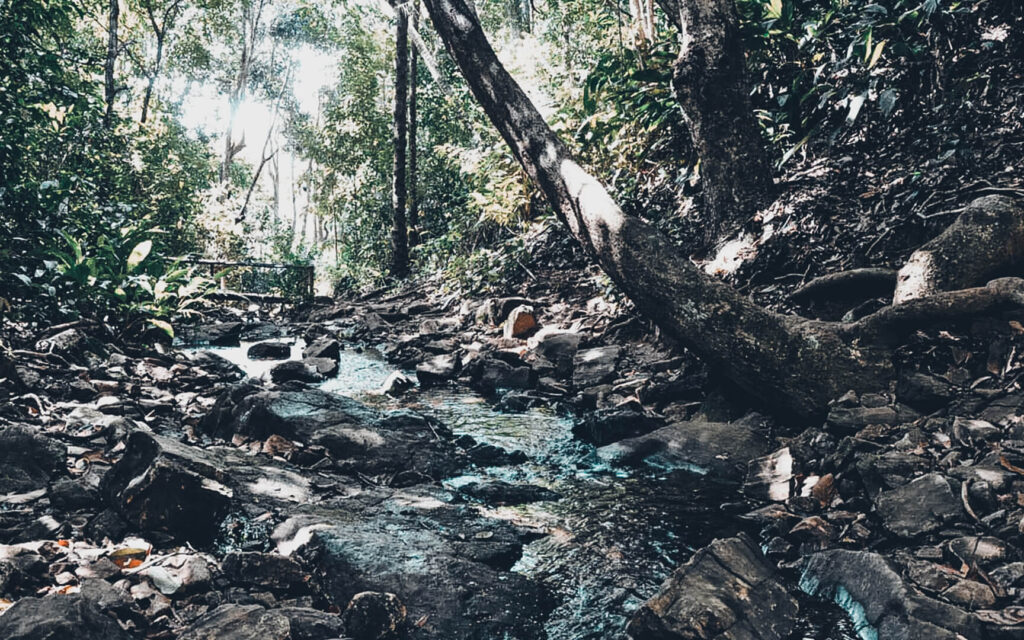 Zipline at Ribeira Beach
If you are into adventurous moments, you should definitely try out the zipline at the Ribeira beach.
At the end of the beach, there's an eco-adventure park called Conduru Ecoturismo, where they offer activities such as arborism and zipline. Arborism means passing over hanging-bridges, which connect several trees forming an acrobatic path near the treetops. Activities such as trapeze, spider web, zip lines, and others are some of the challenges you will face in arborism.
Besides having a fun moment, you will be able to appreciate the fauna and flora present in the trees. The park has 20 hanging activities, being 7 zip lines that vary from 2 to 50 meters in height.
The largest zipline is the Ribeira zip line, 280 meters long and 40 meters high, crossing over the beach. Absolutely a must when in Itacaré.
Humpback whales
If you are lucky enough to visit Itacaré between July and November, that is, the whales season, you should definitely take a humpback whale watching tour.
Every year during those months, the whales return to this warm water region to rest, mate, and give birth.
Several agencies sell the tour, which includes a boat ride with a guided tour, that most times is a biologist or environmental technician, lasting approximately 3 hours. Of course, there's no guarantee that you will in fact see the whales, but the chance is high, and it's still a great boat ride.
Nightlife in Itacaré
It doesn't really matter if you are in Itacaré during high or low season, you will always find something to do at night.
But let's start with the sunset, because, let's face it, every amazing night always begins with an amazing sunset. There are two main spots to enjoy it: the Mirante do Xareu, and Praia do Pontal.
If you choose to go to Xareu's lookout, you will have to head yourself to the spot between Praia da Concha and the boardwalk. There, you can either visit Dharma, a cool bar with happy hour deals during sunset, or sit outdoors and enjoy the landscape.
If you prefer Pontal Beach, you will have to go to the boardwalk and take a boat to cross over. That will cost you less than a dollar and will allow you to enjoy a marvelous sunset at Iemanjá Beach Club. Sometimes, they even have live DJs performing.
After sunset, everything happens in Pituba Street or Pasarela da Vila. They both offer several restaurants and bars to choose from. You will be able to find live music, great cocktail deals, and a vibrant atmosphere all around.
If you are into nightclubs, well… There aren't any! But do check out Favela Coffee Shop. Its name might confuse you, but it's not so much a coffee shop, as a great hip spot where the party lasts almost all night long.
Travel Guide to Itacaré: Accommodation
When it comes to accommodation, there are several options for backpackers in Itacaré.
As I always say, if you are traveling alone, with friends, or on a budget, the best you could do is opt for a hostel. They are great places to met new people and spend fun moments.
I definitely recommend you check out Bananas Hostel. It's the social spot both for tourists and locals. There's always a party, or a jam session, or a gathering going on. It offers comfy shared and private dorms, it has a cool bar, a kitchen you can use, and it's located in the center of the city, right where everything happens.
What do you think of this travel guide to Itacaré? Is there anything else you want to know? Let us know in the comments below!
Have a great adventure!