On the northeast coast of Brazil, in the state of Rio Grande do Norte, a small city is growing slowly but firmly. It's the beautiful Pipa, a fishers and surfers' town that's located 80 kilometers away from Natal, the capital city of the region. Unfortunately, not many people have heard of this place. So we have prepared you this travel guide to make sure you don't miss this paradise while you are traveling around Brazil. Let's get started. Pipa awaits!
Beautiful beaches with exuberant wildlife, a cheerful atmosphere, a vibrant nightlife, and exquisite food are only a few attractions of this amazing place I had the fortune to live in for, almost, six months. And even after 180 days, I still didn't want to leave.
Personally, I find it's sad that most travelers don't even know about Pipa's existence. Such an incredible place shouldn't be ignored. So let me tell you everything about Praia da Pipa, one of the best-kept secrets in northern brazil.
We will start on the basics and take this guide to the deepest. And trust me, once you are done reading, you will be buying your ticket to go!
Pipa Travel Guide: Arriving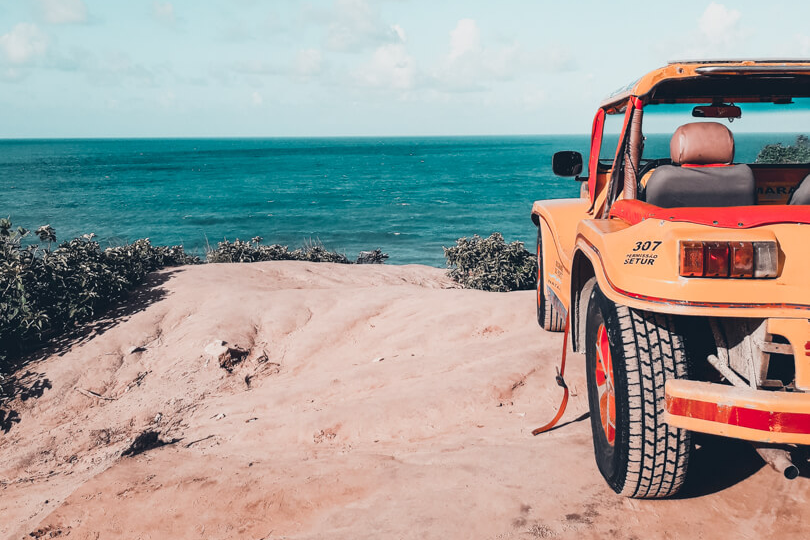 By Bus
To arrive in Pipa by bus, you have several options. Most of the main cities in Brazil have direct connections to Natal. And once you get there, you will find direct buses daily every few hours to Praia da Pipa from around 4 dollars.
But, in case you are coming from the south, your best option is to take a bus to Goianinha, or a bus that is going to Natal, and, instead of completing the journey, getting off the bus in Goianinha. You can take a minibus from there that will take around 30 minutes and cost you 1 dollar.
By plane
If you are arriving to Pipa Beach by plane, the nearest airport is the Governador Aluízio Alves International Airport in Natal. It's located 64 kilometers away from Pipa, meaning it would take you at least one hour to arrive from there.
As it's an international airport, you can find flights to get there both from Brazil or from abroad. But let me tell you, if you are not in the country, flying directly to Natal might hurt your wallet. The cheapest way to get by plane to Brazil is flying to Sao Paulo or Rio de Janeiro, and then flying with domestic flights.
Once in Natal airport, you can choose one of the following options:
Transfer
If you have booked accommodation in Pipa, the easiest option is to contact them and ask if they offer transfer services. Most accommodations do this for an extra price. You will expend a little more than if you took a public bus, but it's going to be much more comfortable and fast just paying the additional.
In case you haven't book anything, or the hostel or place you choose doesn't provide this service, there are two transfer companies in the Airport. You can pay for your seat once you arrived, wait for the transfer is full, and you will be good to go. But be aware of low and high seasons, because, throughout the summer, it's really probable you won't find a free seat without notice.
Public buses
Unfortunately, there is no direct buses from the airport to Pipa. If you choose to use public buses, you will have to take two. The first one, from the airport to Natal's city center. The second one, from Natal to Pipa beach.
This option is going to be the cheapest one, but probably the most uncomfortable too. You will be carrying around your backpack for about two hours to finally arrive. So think it through.
Rent a car
Renting a car in Brazil is a great idea, especially because of the big distances between the most touristic places. At the airport in Natal, you will find a rent-a-car office. Prices start from 15 dollars a day, or, at least, that's what they say in their publicities! Of course, you don't need indications, you have Gps! But I do want to warn you that the road that leads to Pipa is not in the best conditions. So the journey might be a little bumpy.
Taxi or Uber
The last option is also the most expensive one. Taking a taxi from the airport to Pipa will cost you around 50 dollars. Uber doesn't work yet in Pipa, but it does in Natal. So if you choose to use the app, yes, you will be saving a little money… But you would have to get off before arriving into Pipa, as locals don't like seeing Uber drivers in the area.
Personal experience
I arrived at Pipa in May 2017. The road that led me to that paradise started in Maceio when a few friends and I decided to hitchhike our way. It took us a few days to arrive, which gave us the chance to see also some other cities of the Brazilian northeast, such as Recife and Joao Pessoa. Not to mention we had an amazing time talking with the drivers that took us up from Br-101 route, listening to life experiences, and exchanging musical recommendations. Finally, the last ride we picked up left us in Goianinha, a small city from where we took a minibus to our destination.
So if you are thinking about hitchhiking that route, don't hesitate. You should of course be careful, but we found most people on the way is rather helpful and kind. Yes, even in Brazil.
Wherever you are, I recommend you to search for your path in Rome 2 Rio if you have any other doubt. You can also check out other travel apps we use in this article.
Pipa Travel Guide: Things to do
Beaches
If you are anything like me, you are going to love the variety of options that Pipa has to offer when it comes to spending time on the beach. Of course, in this travel guide to Pipa, I decided to tell you about every paradisiac beach in Pipa. You can then choose your favorite!
Praia do Amor
Praia do Amor is the social beach by definition. An extensive sand strip surrounded by coconut palms and the greenest vegetation you can ask for, occasional monkey visits, and great waves to surf.
Praia do Centro
Praia do Centro is the main beach in the town. Here you'll find the biggest restaurant's offer. The tide changes the shape of this beach often, so sometimes you may find a natural swimming pool in the middle. The tip: this is one of the best spots to enjoy the sunset. You will love it!
Baia dos Golfinhos
Baia dos Golfinhos is definitively the gem of Praia de Pipa. It's the most famous beach in town, and it could not be missing from this Pipa travel guide. Why? Well, because it has dolphins.
And I don't mean you can sometimes see them in the distance. I mean you can see them jumping around only a few meters from the coast almost every day. If you are lucky enough, you can swim really close and even get splashed by them. It sounds crazy, and it is, but it's 100% true. I'm telling you, I have been lucky myself a few times.
Tip: To arrive at Baia dos Golfinhos beach, it's really important to check the tide status. When the tide is low, you can easily go and come back. If the tide is high, you have to walk on the rocks by the shore.
It's common to find people selling you the "Dolphin's tour" all over the town, where they take you to a boat trip to see them and take some photos. If you wanna do it that's great, but believe me, it's not necessary to pay when you can get really close to them for free.
Praia do Madeiro
Praia do Madeiro is another surfer's paradise, and it's the one with the most virgin-like look. It's a little far away from the city center, so you can take a minibus from the main street. The ride takes around 10 minutes. On this beach, you can rent a stand-up paddleboard, take a surf lesson, or simply relax and enjoy the sun.
Tours and activities
So, pretty much, you can have a lot of fun for free. But if you can and want to spend some money, I recommend you to take a full-day tour around Pipa and its surroundings.
The tour will take you to Sibauma, Barra de Cunhau, and Chapadão. It's not expensive at all and it's a great way of making the most of your time in Pipa. You will visit the best landscape spots: by the sea, by the river, and a shrimp farm, among others. It finishes with real fun sandboard activities in the dunes.
This full-day tour has a standardized price and you can book it in any tourist office all over the main street.
You can also rent a buggy and go to all these places by yourself. You will only need a credit card and a valid driver's license, or, as I can never say enough, hitchhike!
Make sure you spend at least one afternoon in Tibau do Sul, a small village next to Pipa where the river meets the sea. That's another great place to enjoy a magical sunset.
Nightlife
As we covered through this travel guide, Pipa is a small town, but that doesn't mean its nightlife isn't animated.
Most of the bars are located in the Avenida Baia dos Golfinhos, close to the main square. During the high season, the party is on the street. I highly recommend starting the night at Dudo bar, where the alcohol is cheap and you can play a foosball match, and moving later to Taipa, a reggae bar that often presents live music and has great prices.
If you are looking for a club, the place for you is Calangos, where the party lasts all night long.
Pipa Travel Guide: Accommodation
Backpackers like me, those who are looking not to spend much and meeting new people are more suitable for hostels accommodation.
In that case, you have lots of options to choose from. You can find prices from around $5 a night in shared dorms or $25 a night in private bedrooms.
The Lagarto na Banana hostel is a great option, they have a bar, free activities, and a nice atmosphere filled with people from all over the world. It is a little far away from the city center, but walking in Pipa is a must. Prices here go from $10 in shared bedrooms to $30 in private rooms.
The Surf Camp Pipa Hostel offers surf lessons and accommodation packages, it's located in the city center and has a great vibe as well. A night in a shared dorm is around $5 and $30 in a private room.
If you are traveling with your couple or with your family, you may want to choose a hotel or a pousada instead of staying at hostels. You can check the prices and availability of all the options in Pipa here.
Pipa Travel Guide: Food
When it comes to seafood, you are in the right place. Caxanga restaurant is one of the best in town. It's located in the Av dos Golfinhos right in front of the beach. You have got to try the moqueca de camarão (shrimp stew), it's amazing.
A healthy and tasteful option is the Açaí, sort of an ice cream made of the açaí fruit that grows in the Amazonia region. The best place to try it is Top Summer, located in the Av dos Golfinhos. It is a self-service place, you can serve yourself the amount you want to eat, choose between a large variety of toppings and fruits and pay for the weight.
---
So there you go. Now you know what you need to know about Praia da Pipa. If you have any questions or suggestions, use the comment section below. Feel free to share this post with other fellow travelers! See you soon with more maps and words!
Grab your backpack and let's go… Destination? Praia da Pipa!