There are many reasons why people travel. If you are a backpacker, like us, you are probably chasing unforgettable moments, hoping to immerse yourself in another culture, and even grow as a person. But that doesn't mean you can't have fun! So, whether you are planning your backpacking adventure, or already on the road, we want to suggest to you the best party beaches in South America to have the time of your life. Check them out!
Beach Season in South America
The first thing you should know when you are chasing fun in South America is when the summer season starts and when it ends. It wouldn't have much sense going to one of these top party beaches if nothing is going on there, right?
The summer season starts in December and ends in March. The best months to find wild parties are January, the maximum point of the high season; and February, when the carnival mood is all around.
But, even if you are not nearby exactly during those months, that doesn't mean you won't discover vibrant destinations to have some fun. It just means that there will be fewer people to party with.
Don't worry. You are still going to be able to enjoy the beach and the sun and even make a few friends.
Best party beaches in South America
However, parties are better when crowded, isn't it? And South America is an enormous continent, with a very wide variety of landscapes, cultures, and climates. So it might be hard to discover the exact points where the emotions are running high.
Luckily for you, we have been traveling around South America for a long time. So look no further! These are the 5 best party beaches in South America. Of course, in our humble opinion!
1. Montañita – Ecuador
It was 2018 when, after crossing Colombia, we decided to go to Montañita, on the south coast of Ecuador. We were looking for a place to work during the summer, and we had heard cool things about their fantastic parties and their vibrant nightlife.
Everything was absolutely true. Montañita is a very special town. It is a small fishing village that has turned into one of the major attractions for backpackers who want to party hard. Especially during the New Year days, when its streets are filled with travelers, and, therefore, it becomes a crazy place.
As it is a small village, it doesn't have many services. But you can find hotels, hostels, restaurants, bars, and nightclubs everywhere.
The biggest and most famous club is called Lost. They organize endless parties on weekends, that lasts until the next day. Great DJs play there from time to time.
If you are looking for some drinks before the night explodes, then I recommend the "Calle de Los Cocteles", where you can find itinerant carts selling an infinite variety of cocktails at lower prices than bars or clubs.
We stayed in Montañita for two months, and it was awesome. Besides its wild parties and bohemian vibe, it's one of the most important surf spots in South America. So make sure you don't miss it!
2. Máncora – Peru
When we first arrived in Máncora, I didn't like it very much. But it ended up becoming one of the places I loved the most during my trip.
Máncora is also a small village by the sea. In many aspects, it resembles Montañita… But in this location, the party hostels are the masters.
We stayed there for almost 3 months, volunteering in one of the biggest chains of party hostels in Peru, the amazing Wild Rover Mancora.
You will find many hostels by the sea, which offers the opportunity to spend moments of remembrance and have a very good quality of service. We can strongly recommend The Point, The Loki, and The Wild Rover if you want to live a party experience 24/7.
The party starts during the day with pool parties and goes on until 2 in the morning, the closing time of the bars and the hostels. But the party is not over just yet! There are a few locations, like the Loki Hostel, that runs until 6 in the morning.
So, again, besides being a great party beach in South America, Máncora has great waves to learn to surf. You definitely have to visit it! Make sure you read our complete travel guide to Máncora before going.
Pss… If you want to know more about how volunteering at hostels works, check out this article we've written.
3. Morro de Sao Paulo – Brazil
I think is really sad that most backpackers don't come to Brazil during their adventures. But, it's even sadder than, when they do come, they miss Morro de São Paulo.
Morro is a beautiful small village located on an island, in the Bahia northern State. You could easily arrive from Salvador de Bahia in a two-hours boat.
I know I said it's a small village. But from December to March, it gets wild. People from all over the world, but especially Southamericans and Israelis, fill the island in search of great parties and adventure. And they find them!
There is a wide variety of nightclubs and bars ready to welcome young tourists all year long. My personal favorite is called El Teatro de Morro. It's a nightclub where you will find live music, two different dance floors, and even a foosball table. I also suggest going to Toca do Morcego to start the evening with some drinks, while enjoying the sunset.
But there's more! Morro de São Paulo's main attraction as a party destination is precisely the beach party. Twice a week, in the 2nd Beach, there's a live Dj and itinerant carts selling cocktails while everyone dances at the sand.
If you want to know more, check out this travel guide to Morro de São Paulo we've written.
Also, Morro has some of the most beautiful beaches I've ever seen. So, what are you waiting for to go?
4 Jureré – Brazil
It might sound like we are a little bit obsessed with Brazil, we apologize. But Jureré is another great party beach destination in South America, and we have to tell you about it!
You probably haven't heard the name Jureré before. But I bet you did hear the name Florianópolis. Well, that's where this destination is at.
Florianópolis is a large island in the Brazilian south, in the Santa Catarina State. Due to its amazing beaches and wildlife, it's a very well-known destination among backpackers in Brazil. And Jureré is one of its northern beaches.
There are two "sides" of Jureré. The familiar side, and the party beach. This last one is usually called Jureré International. There are lots of beach clubs there, where the music and the drinks never stop running. P12 is the most famous one. The party starts early on the day and lasts all night.
Don't miss the chance of visiting Jureré! And you could also check out other great destinations in Brazil in this post we wrote for you.
5. Palomino – Colombia
Palomino is another lovely town in La Guajira, in the Colombian north. It shore is right upon the Caribbean Sea, so you can already imagine how beautiful its beaches are.
With exuberant nature, long beaches, a river, and lots of palm trees, Palomino enchants all types of travelers. But especially backpackers. It's a place that has the incredible ability to mix peace with parties and madness.
There are several nightclubs and bars in town, where locals and foreigners get together to have great times.
Just a few days are enough to enjoy its charms. But if just a few days is what you have, I strongly recommend you to choose the days surrounding the full moon and go to the full moon party on Casa Grande. It's a charming spot in between Palomino, and the lovely Tayrona Park, and those parties are legendaries.
If you are wondering where to stay, I suggest the Dreamer Hostel. I only stayed for a few days, but it was amazing! It has a great party hostel vibe, a cool bar, and it's just a few steps away from the beach.
Feel free to check out our complete travel guide to Colombia to discover more destinations.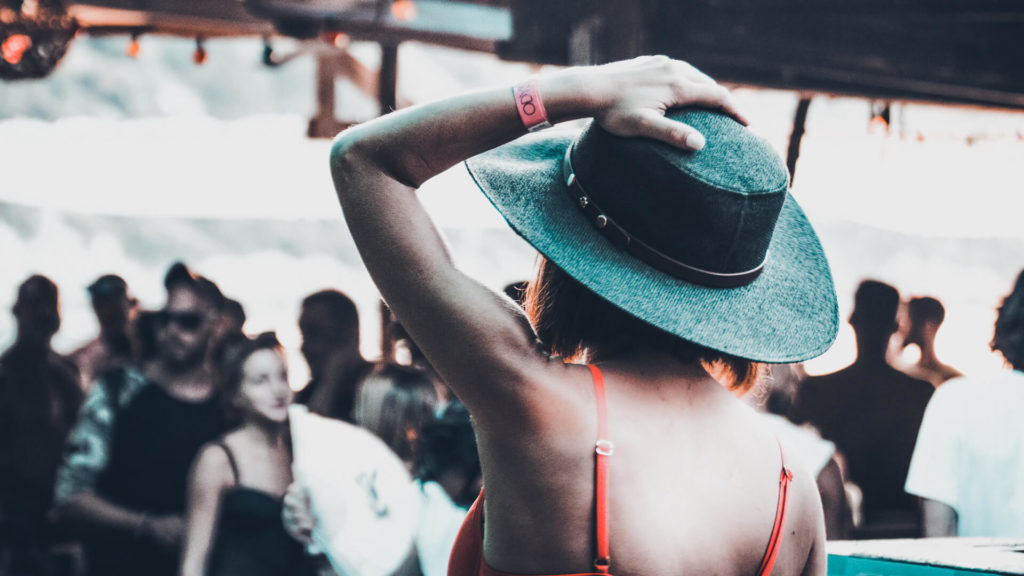 That's it for today. But this continent is so big that there are countless great destinations to suggest. Do you have any favorite party beaches in South America?
I hope you have discovered some new places to crash the party. And, as always, feel free to use the comment section below.
Have a great adventure!