Everybody knows Colombia is one of the most attractive destinations for backpackers in South America. It's an amazing country, with so much to see and do. But on this occasion, I wanted to share with you our complete travel guide to the Colombian Caribbean, one of the must-see regions in Colombia. Some of the most beautiful beaches are waiting for you there. So what are you waiting for? Get ready to discover everything you will need to know to enjoy your trip at its maximum.
Colombian Caribbean Travel Guide: Basics
The Colombian Caribbean is a region located in the north of this South-American country. It's one of the most colorful and cheerful places to visit in the world. Its amazing beaches, warm people, and tasteful typical dishes are an invitation that every backpacker should accept.
Colombian Caribbean Weather
The weather in this region is typically warm throughout the year. The average temperature is 25 ºC, but it can reach up to 40 ºC depending on the region and the month of the year. The warmest ones are typically June, July, and August.
Since it's tropical weather, it might rain at any time of the year. However, the rainiest months are those going from May to August and from September to November.
My recommendation is to pack light summer clothes and one or two raincoats or light jackets.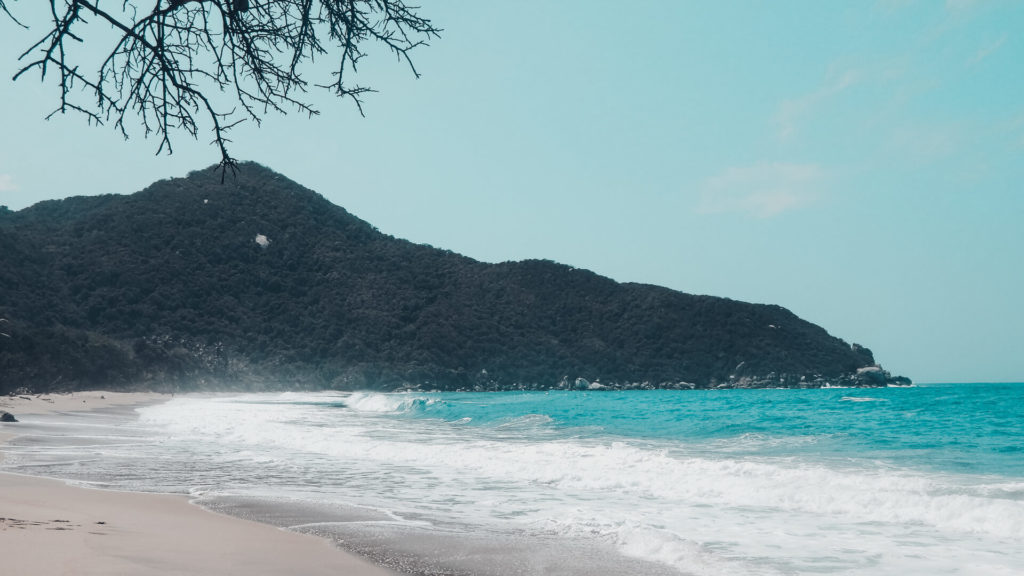 Colombian Caribbean Budget
As I mentioned before on our complete guide to backpacking Colombia, this country is one of the cheapest in South America. You will find in that post everything you need to know about average prices for all over the country.
But let's talk specifically about the Caribbean region since I want to share with you some common prices to help you plan your budget.
A night in a hostel in a dorm might cost 12.000 to 25.000 Colombian Pesos.
Typical lunch in a restaurant could cost around 6.000 Colombian Pesos.
A beer can cost around 1.800 Colombian Pesos in a market, or 4.000 Colombian Pesos on a bar.
At the time of writing this post, 1 US Dollar equals 3.800 Colombian Pesos.
Colombian Caribbean Travel Guide: Destinations
Now I'd like us to go through the main destinations in the Caribbean region of Colombia.
All these places are beautiful in their unique ways and have something special to offer. You will find a general description, recommendations on where to stay, what to do, and some friendly first-hand advice for every one of them.
Depending on how much time you have and what do you want to see, you can set up an itinerary that goes through all of these or just the ones that most caught your attention.
By the way, if you need some help with planning your itinerary or your trip from scratch, you might want to check out this guide to plan any trip we've written for you.
Cartagena
Cartagena is a beautiful city full of history, colors, and Caribbean style. Is one of the most touristic cities in Colombia, and therefore, it might be one of the most expensive destinations on this list. But that doesn't mean you can't allow your self to fully enjoy it! It's still considerably cheap when compared to tourist places in other corners of the world.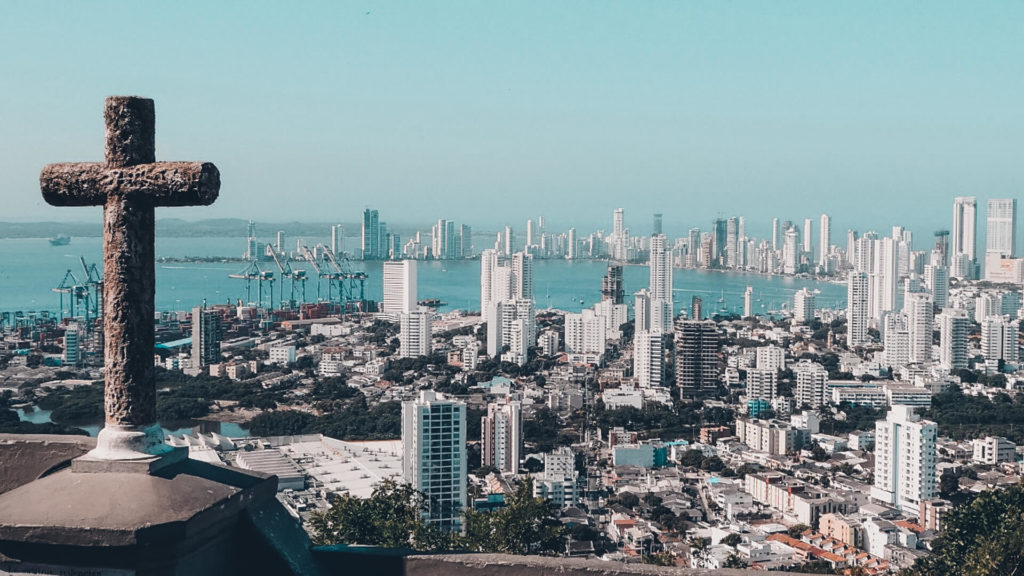 Things to do
The main attraction in Cartagena is, of course, the Walled City. It is the historic center of the city, and it was declared World Heritage by Unesco. It's colorful architecture and the cheerful atmosphere make it one of the best destinations to visit in the Colombian Caribbean.
But Cartagena is more than its Walled City. While you are there, you should definitely go check out Getsemaní, the bohemian neighborhood that attracts young travelers and locals every night, with its uncountable bars and restaurants.
If you want to feed your appetite for history, Cartagena is also the right place. It has lots of museums to visit and learn more about the local culture and how it evolved over time. One of the main ones is the Gold Museum, located inside the Walled City.
And if you are in the mood for a beach day, you could always go to the urban beaches surrounding the city. The nicest beach in the vicinity is Bocagrande, but let me warn you, it's not the typical Caribbean beach you picture in your head. For clearer water and whitest sand, you should go visit the nearby islands, like Bocachica or Punta Arenas, in the Tierra Bomba island, a few minutes by boat away from Bocagrande.
Where to stay
There are several hostels in Cartagena for any kind of traveler or backpacker. I recommend you to look for one whether inside the Walled City or in Getsemaní.
If you want my recommendation, you should definitely check out the Media Luna Hostel in Getsemaní. It has a great bar, a nice swimming pool, and daily fun activities for its guests.
If you prefer to stay inside the Walled City, one of the best options is The Clock Hostel and Suites. It also has a great vibe, a cool bar, and several games and activities to enjoy every day and meet new people.
Tips for backpackers
Cartagena is definitely one of the warmest cities in the Colombian Caribbean, so make sure you choose accommodation with AC since a normal fan might not be enough. Also, make sure you carry freshwater everywhere you go and use enough sun cream to avoid sunburnt.
You will probably have to deal a lot with sellers in the street, especially inside the Walled City, and while spending time at the beach. There's not much you can do about it. Just arm yourself with patience, take a deep breath, and try to be firm saying "no" when you are not interested in buying.
If you want to know more about this destination, we have also written a complete travel guide to Cartagena. Check it out while planning your trip!
Baru Island
Baru Island is one of my personal favorite destinations, not only in Colombia but in the whole world. It's actually a peninsula, located 40 minutes away by boat and 2 hours away by land from Cartagena.
Most people go to Baru on a full-day tour, but I think that's a big mistake. Keep reading to discover the reasons why you should spend at least one night in this fantastic destination.
Things to do
Clearly, the best thing to do in Baru is to take advantage of the beach. It's actually one of the most beautiful beaches in the Colombian Caribbean, with turquoise clear water and white thin sand.
If you want to use your time wisely, you should definitely rent some snorkel gear and discover the wonderful creatures living under the sea.
Another incredible attraction Baru has to offer is its sunset. The sun hiding on the horizon over the sea is a beautiful spectacle available for free every day in the peninsula.
And finally, for your night(s) in Baru, you should definitely go check out the luminous plankton. Boat tours depart every night, but the best time to enjoy them is when the moon is new and the night is darkest. Is an experience out of this world.
Where to stay
Even though there aren't many travelers choosing to stay in Baru, there are several hostels and accommodation for those interested in doing it. And, the good news? They are all seafront!
My personal recommendation is The Wizzard Hostel, a beautiful place where I spent a month volunteering at. For those looking to stay within a budget, it has a shared dorm with affordable prices, or even hammocks to rent for an even cheaper price. If you are looking for some more comfort, they have 4 charming sea-front cabins, perfectly fit for couples or solo travelers.
Tips for backpackers
Baru is a magical place where you can get closer to nature and peace. But, I should warn you right away that it has neither electrical power nor running water.
I faced it like an adventure and had no problem with it. After the sun goes down, most accommodations have power generators they turn on. And regarding shower time, everyone gets a 5-liters bucket per day. That's it! But believe me, it's more than enough to fell clean.
Another important thing to know is that there are no supermarkets in Baru, and most supplies are hard to find, and, therefore, overpriced. So make sure you buy everything you might need in Cartagena before arriving in Baru.
Santa Marta
Santa Marta is another famous city in the Colombian Caribbean. I think it's not one of the most beautiful destinations in the region, but it still has some cool attractions and it's worth staying at least 2 days.
After that, it's a great starting point to visit some other amazing destinations in the Sierra Nevada, such as Minca or the Lost City.
Things to do
Santa Marta is well-known among locals as one of the main beach destinations in the area, but I wasn't so delighted when I arrived. The main urban beach is mainly a port zone, so it's not the Caribbean beach you could be dreaming of.
A point in favor: a stunning sunset over the sea is waiting for you to enjoy it on the main beach.
If you are looking to spend a day at the beach, the best spot it's called Rodadero. It's known by the locals as some kind of "Southamerican Miami", but I didn't fancy it so much either.
The best thing to do in Santa Marta in my opinion is taking advantage of the agitated nightlife. It the historic center, you will find several restaurants, bars, and nightclubs for every taste and budget.
Where to stay
Santa Marta has a great variety of hostels and budget-friendly accommodations for backpackers. Most of them are located in the historic center, and I think that's the best neighborhood to stay at.
A cool option is the Casa Avelina Hostel, a charming vibrant place located in the heart of Santa Marta. They have a cool swimming pool, bar, restaurant, and offer comfortable shared and private rooms.
Tips for backpackers
Santa Marta is another place where your patience will be tested. If you dare to go to the main urban beach or El Rodadero, you will be spending at least half of your time repetitively saying "no, gracias" to all kinds of sellers and masseurs.
Also, try not to walk around alone away from the historic center at night. It's not uncommon that there is some other robbery on the outskirts of the city. Nothing to be scared about, but it's worth being forewarned.
Taganga
Taganga is another one of my favorite towns in the whole world. I spent in total around 6 months in Colombia, and 2 of them, I spent on Taganga.
It's a small fishers village 20 minutes away from Santa Marta, where you will be able to find the Caribbean-looking beaches you were searching for. And it's even cheaper and more "hippie" than its neighbor city.
Things to do
Taganga is a great place to spend some relaxing time. Just going to the beach and enjoy its warm sea is one of the best plans in the village. The main beach is the Taganga Bay, and even though is full of boats, its sea is a lot clearer than Santa Marta's sea.
A short easy walk separates the bay from Playa Grande, the second beach in Taganga. Playa Grande doesn't have as many boats, which makes it a better spot for swimming and trying snorkeling, rent a kayak or stan-up board, or simply enjoy a typical lunch at one of its many restaurants.
As in most cities in the Colombian Caribbean, the sunset is a fantastic spectacle not to be missed.
If you are in the mood for a night party, you will find many options in Taganga, all year long. There are several bars and even a few nightclubs where young people from all over the world get together to party.
Where to stay
There are lots of hostels and accommodations in Taganga, even though it's such a small place.
I happened to stay for my first two nights at El Alquimista Hostel, a cool little place where you will find shared dorms and private rooms for a great price. Back then, it was the cheapest hostel in town! But that's not why I recommend it, it also has a cool friendly bar, and a great atmosphere to meet both locals and travelers.
And after my first two nights, I volunteered for a while at La Tortuga Hostel, a great spot with a cool vibe, a nice swimming pool, and a great bar with one of the best views in Taganga. They also have shared dorms and private rooms, and it's a fantastic place to meet people and make new friends.
Tips for backpackers
Taganga felt like home to me, I made great friends and enjoy a lovely time. Nothing not even remotely bad ever happened to me, but I did hear some stories about criminal situations happening around.
I was always careful not to walk around alone at night, and I recommend you to do the same. Just follow your common sense and you will be alright.
Tayrona Park
The incredible Tayrona National Natural Park is located in between Santa Marta and Palomino. It's one of the main attractions in Colombia, and definitively one of the most beautiful destinations in the Colombian Caribbean.
You can arrive by bus from Santa Marta or Palomino, they will both leave you at the entrance. But from there, you will still have a long walk just to reach the trekking beginning! Get ready to walk, but stay calm, it's an effort that's totally worth it.
Some of the most beautiful Caribbean-looking beaches are located in the Tayrona Park. As you will see, it's a huge place, so make sure you reserve at least 2 or 3 days to get to know it and enjoy it at its maximum.
Where to stay
Inside the Tayrona, there are several camps where you could rent a hammock or a tent, or simply a space to set up your own.
The most famous location to sleep is at Cabo San Juan, the most famous beach at Tayrona. We preferred to sleep in a cheaper place, near La Piscina beach, one walking hour away. We paid something like 10.000 Colombian Pesos to set up our tent, and hammocks rental costed the same.
The main camping is almost twice as expensive, but if you can afford the prices, sleeping in the Cabo San Juan camping must be a cool emblematic experience too.
Tips for backpackers
Supplies and, especially, the food inside the Tayrona Park are overpriced, and it's not easy at all to find a place with a kitchen. So get ready to cook the old fashioned way! I recommend you bring utensils to cook on the fire and canned and easy-to-cook products.
If you are in good shape, carrying your own bottled water might be a great idea to avoid overspending. But of course, you will still need to buy more water inside the Park.
Palomino
Last but not least, there's one more destination in the Colombian Caribbean I completely loved and would hate for you to miss. The beautiful Palomino. Located approximately 2 hours away from Santa Marta and 1 hour away from the Tayrona Park entrance, it's a place you definitely have to consider for your itinerary.
It's a small charming town with sandy streets that seem lost in time. Surrounded by stunning natural landscapes, between tropical-looking beaches and 3 beautiful rivers, Palomino is like a fairytale for beach lovers.
Things to do
The main plan in Palomino is obviously to enjoy the beach. The main beach is a long sand strip surrounded by beautiful palm trees and with warm wavy water.
Palomino is a perfect spot to practice your surfing skills, whether you are an experienced surfer or somebody looking to take its first steps in the sport.
Another fun and cheap activity in Palomino is the famous "Tubing" down the Palomino River. To do it, you will have to hire a tour. It will normally include a motorcycle ride to the mountain where the river trail begins. Once there, they will release you with a life jacket on a floating tire, and you will let yourself be carried away by the current until it flows into the sea.
And finally, another great aspect of Palomino is its vibrant nightlife, especially during the high season. Actually, I think is one of the best party beaches in South America.
Where to stay
Palomino is a tourist place, and as such, there are several cheap and comfy options when it comes to accommodation.
My personal favorite is the Dreamer Hostel. It's a cool place located a few meters away from the beach, where you will find an international cheerfully vibe, a cool bar, a restaurant, and a great swimming pool. They offer both private rooms and shared dorms as well.
Tips for backpackers
The weather in Palomino is even more tropical than in other Caribbean destinations, so be prepared to face small downpours from time to time. However, that won't keep you from enjoying the beach and nature, as the temperatures will still be pretty high and the rain never lasts that much.
Make sure you pack a raincoat and some good shoes besides your swimming suit.
Ready to enjoy the Colombian Caribbean?
I hope you have discovered some cool destinations to visit during your backpacking adventure. Or perhaps learned a little bit more about some of the places you were already considering to visit.
Of course, there are countless destinations to talk about on the Caribbean Coast and in Colombia in general. But these are, in my opinion, the ones any traveler should miss.
Would you add some other destinations to this Colombian Caribbean travel guide? Let us know in the comments down below.
Have a great adventure!