Cartagena de Indias, or simply Cartagena, is one of the most beautiful destinations in Colombia. It's a city that combines history, natural beauty, and cultural wealth. After spending 3 months in that location, we can say with total conviction that is worth visiting, as there's so much to do and enjoy. Are you planning on backpacking Colombia? Then welcome to our ultimate Cartagena travel guide for backpackers!
Cartagena Travel Guide: Arriving
Cartagena de Indias is located on the Caribbean coast of Colombia, in the country's north. It's one of the biggest cities in the country, and, of course, it's really well connected to all other major cities.
There are two main options to arrive in Cartagena de Indias: by plane and by bus.
By Plane
The international airport of Cartagena is located in the Crespo neighborhood, approximately 5 kilometers away from the city's touristic area.
International and domestic flights land daily there. So you could arrive by plane basically from any other important Colombian, South American, or foreign city in the world.
If you are coming from or going to Panamá, we recommend you to land or departure in Cartagena, as its the airport with the cheapest flight offers. This is actually how Andres arrived at Cartagena.
Once at the airport, you can arrive at the walled city or the city center by public bus, taxi, uber, or booking a private transfer with your accommodation.
By Bus
You could also arrive by bus from any other big city in Colombia. The bus terminal is located approximately 15 kilometers away from the walled city.
Once at the bus terminal, you can also arrive at your destination by public bus, taxi, uber, or private transfer booked with your accommodation.
Cartagena Travel Guide: Things to do
Andres and I spent 3 months in Cartagena. Yes, because it's a city we loved, but also because there are so many things to do!
When you are backpacking Colombia, Cartagena is a must. We highly recommend you stay at least one week in Cartagena to fully enjoy it. But that will depend on how much are you planning to do and the type of travel you are making.
If you are short on time, 3 days might be enough to see the main attractions.
Check out below the best things to do in Cartagena.
Walled City
Anyone could say the walled city is the main touristic attraction in Cartagena, and it would be absolutely right. Due to its historic importance and its architectural beauty, it was declared World Heritage by the Unesco.
The walled city dates back to the 14th century when the Spanish arrived in Colombia. Its colonial architecture and the fact that it is located right in front of the Caribbean Sea, make it one of the most beautiful destinations in Colombia.
We recommend starting by visiting the clock tower. It's one of the main landmarks located in one of the many entrances to the walled city. You will be able to enjoy beautiful colonial architecture or have a drink or something to eat in its several bars.
Right across the clock tower, in front of the city's walls, you will see the beautiful Centenario Park. It's a big green square surrounded by buildings, but with a surprisingly wide variety of wildlife. Sloths, monkeys, and many bird species live in the park. On weekends, there's a used book fair going on.
If the day is sunny – and in Cartagena, it probably is – leave a few hours from your day to take a walk around the city's walls. You will feel you are in an old castle and will be able to enjoy a lovely sunset over the sea.
It's a great idea to sign up for a free walking tour. You will then be able to learn some history and enjoy the amazing views of the city.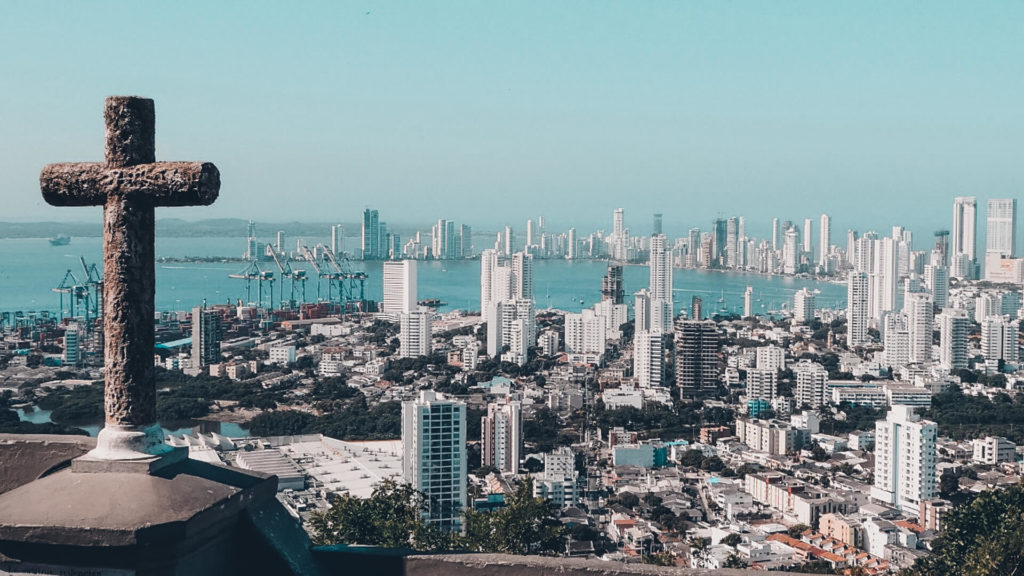 Getsemaní
Across from the Centenario Park, but on the other side, the bohemian neighborhood of Getsemaní is ready to amaze its visitors. It's a location full of colorful streets and lovely alleys.
There are lots of accommodations, bars, and restaurants in this area of Cartagena. And it's the second most visited neighborhood in the city.
You could start by taking a walk through its streets. It's a great location for taking amazing photos, and, because it's such a tourist place, it's a safe area to have your camera in your hands.
Make sure you visit the Plaza de La Trinidad, a beautiful square with a lot of historical importance, and where the Trinidad church is located. It's also a big meeting point for young people at night looking to have fun. You will notice a lot of small bars and boutiques with live music and a bohemian vibe.
Another great thing about Getsemaní, it's that its street's walls are covered with colorful graffitis. Therefore, it's a lovely walk, and one of the best things to do for free in Cartagena de Indias.
Beaches
Let me tell you right away that, even though Cartagena is located on the shore of the Caribbean sea, its beaches are not exactly paradisiac.
Don't get me wrong, that doesn't mean you won't find beautiful beaches to enjoy during your stay. I'm just saying that those are not exactly in the city. And I must tell you the truth in this Cartagena travel guide.
So, if you are looking for some stunning locations to spend a day at the beach, you are going to have to travel a little bit. The most beautiful beaches in Cartagena's surroundings are, in my opinion, those located in the islands nearby.
If you don't feel like moving around, you could go to Marbella or Bocagrande, two beaches just a few minutes away from the walled city, but in opposite directions. Marbella beach is quieter, and Bocagrande is the touristic beach by definition.
But I absolutely recommend you to cross over from Bocagrande to Tierra Bomba Island, where you will be able to choose between several beautiful beaches. The most famous ones are Bocachica and Punta Arenas, two beautiful white sand locations full of hotels and bars. Crossing over takes only a few minutes and you can bargain the price with the boat drivers.
Museums
As I mentioned at the beginning of this travel guide, Cartagena is full of history and cultural wealth. So, if you are interested in expanding your knowledge about Colombian culture, there are many museums and interesting places worth visiting.
For starters, inside Cartagena's walled city, you will find several museums to choose from. The main ones I recommend are the Museo del Oro – Gold Museum, the Museo del Arte Moderno – Modern Art Museum, and the Museo del Chocolate, or Cacao Museum.
But outside the walled city, a few minutes walking away from Getsemaní, you will also find the San Felipe Castle, one of the main attractions in Cartagena for history lovers.
It's considered one of the most important Spanish constructions in South America. It is an ancient fortress, dating from the 14th century, built on top of the San Lazaro hill. You will have to pay a small fee to visit the San Felipe Castle, but it's totally worth it.
Cartagena Travel Guide: Nightlife
Cartagena's nightlife is definitely busy. If you are a young backpacker looking for nighttime fun, you will love how many options you will find in the city.
There are a few spots perfect to find this vibrant nightlife I'm telling you about. The first one is inside the walled city, more precisely in the clock tower. There are lots of bars, restaurants, and clubs located in the few blocks surrounding the tower.
We spent most of our nights out going to this club called Eivissa, which has a lovely terrace from where you can appreciate Cartagena's night movement. I recommend you to pay it a visit, it's a fun club with 3 different dancefloors playing different music styles.
Another great meeting point is, as I mentioned, the Trinidad square in Getsemaní. There you will find bars and clubs with a more bohemian and relaxed vibe.
And finally, I want to tell you about a strange thing for us foreigns that I saw Colombia has: the Chivas Rumberas. They are traditional old buses adapted to "party". You will find several salesmen offering tickets to them. They include some drinks and give you a tour around the city at night time, while music plays and people dance.
We never got to ride one, but if you do, please tell us about that bizarre experience!
Cartagena Travel Guide: Surroundings
Well, now you know all the best things to do while backpacking in Cartagena. But Cartagena is also a great starting point to visit some other incredible locations in the surroundings.
So, while you are there, do yourself a favor and don't miss this few stunning places:
Isla Baru, Playa Blanca
This Cartagena travel guide wouldn't be complete without some information about the lovely Baru.
Despise its name, Baru is actually a peninsula and not an island. But that doesn't change the fact that is a stunning white sand beach with turquoise warm ocean water.
It's located approximately 45 minutes away by boat from Cartagena, and it's not uncommon that people visit it on a one-day tour. But, hey, backpacker! Please don't do that! Going to Baru should be at least a two-days detour on your itinerary.
Besides its amazing tropical wild beaches, Baru has two amazing things to offer that most visitors miss. First, an incredible sunset over the sea. And second, the luminous plankton enjoyable on the moonless nights.
If you have no budget problems, the easiest way to arrive is by boat. They leave every morning from Cartagena's Bodeguita dock, right outside of the walled city. But there's a cheaper way to arrive: by taking a public bus to Pasacaballos and hiring a moto-taxi from there.
Whichever means you use to arrive, make sure you spend at least one night. Also, be aware that Baru has no electrical power and running water systems. But it's all part of the charm!
Islas del Rosario
The Rosario Islands are a small archipelago made up of around 28 islands. Same as Baru, sellers are offering the day-tour everywhere in Cartagena to visit them. You could choose this option, or you could do a little research and stay on an island or two for a few days.
You can also hire a boat to take a tour on the islands from Baru, which is way closer to them than Cartagena. And, also, cheaper!
For incredible that this might sound, I didn't visit the Rosario Islands, even though I spent one whole month in Baru! I can say on my defense that I was way too comfortable in Baru, and I was broke, even after volunteering for a few weeks.
However, I did a little research for you. I can tell you the most famous islands to visit in the archipelago are Cocoliso, Isla del Pirata, and Isla del Encanto. Isla Grande, as its name suggests, it's the biggest island in the area, which makes it the perfect location to find good accommodation and moving around based there.
Rincón del Mar
Technically, Rincón del Mar is not that close to Cartagena. It's actually located in another department, one called Sucre, approximately 3 hours away from Cartagena.
But it's such a lovely and unknown place, that I feel the need to tell you about it on this Cartagena travel guide.
Rincón del Mar is a beautiful small town where tourism hasn't developed much just yet. It's also located by the shore of the Caribbean Sea and offers incredible beaches with white sand and turquoise water.
There's only one main street in town, where hostels, hotels, restaurants, and bars are located. Pretty much every accommodation is sea-front. The sunset is incredible and the people extremely warm. You could spend the most beautiful few days there without spending much.
To arrive, you will have to catch a bus from Cartagena to San Onofre, and then a moto-taxi to Rincón.
Since it's not as touristic as Cartagena, everything is much cheaper. So, if you are traveling as a couple and want to live a romantic getaway, or want to spend a few days relaxing by the beach on your own, it's definitely a must.
Cartagena Travel Guide: Accommodation
Ok then, it's time to talk about the best places to stay in Cartagena.
As you might know by now, pretty much everything happens inside the walled city and in Getsemaní. So those are great locations to find accommodation for your stay.
Both neighborhoods are full of backpackers hostels, party hostels, and hotels. So you will find a lot of options to choose from.
If you are looking for a party hostel at a great price, I recommend the Media Luna Hostel, in Getsemaní. It has a bar, a swimming pool, and daily fun activities for its guests.
Another great option is The Clock Hostel and Suites, located inside the walled city. It has also a great vibe, a bar, and several games and activities every day.
You can check out all the hostels in Cartagena here.
Tips for backpackers in Cartagena
I want to finish this travel guide with a few tips and information you should know before arriving in Cartagena.
Weather in Cartagena
Cartagena's weather stays constant pretty much all year round. It's typically tropical weather, so get ready to sweat a little bit! Normal temperatures fluctuate between 25° and 40° C. That would be something like 77° to 104° F.
Make sure you choose accommodation with AC, or, at least, some strong fans. If you are walking around in the middle of the day, drink a lot of water, and wear a hat and sunblock cream.
Moving around in Cartagena
To visit the main attractions in Cartagena you won't need more than your feet. Every landmark and interesting spot is located at walking distance from one to another. Especially the ones in the walled city and Getsemaní.
But if you are planning to go to Bocagrande or other neighborhoods, you can choose to use public transportation, taxis, or Uber.
If you do use taxis, remember the fees are not pre-established. So make sure you agree with the driver on how much the journey it's going to cost you, before hopping in. Avoid unpleasant surprises!
Markets and Stores in Cartagena
Everything that you might need to buy, from water to souvenirs, it's going to cost you more inside the historic center. If you have no budget limitations, it's ok to buy inside the walled city. But if you are trying to economize, I recommend you to walk a little bit more and do your shopping outside.
The cheapest and biggest supermarket is called Éxito. If you need to buy plenty of food, or maybe a few beers, there's one located a few minutes outside the walled city, in the city's center.
Practice your patience
Sellers in Cartagena have a reputation for being super insistent. And it's absolutely true! In fact, not only average sellers but also masseurs at the beach and rap singers on the street.
It's not uncommon they follow tourists around, offering their merchandise or services insistently. So get ready to practice your patience, as a simple "No" might not be enough to get rid of them.
Ready to enjoy Cartagena?
As you must have seen, there's a lot of things in Cartagena and its surroundings while backpacking Colombia.
We hope you have found this travel guide useful. And, if you have any questions or suggestions, feel free to use the comments below. We will be happy to help!
Have a great adventure!