The capital city of Colombia is one of the mandatory stops when backpacking the country. Located 8,016 feet (2,630 meters) above sea level, this giant metropolis is full of history and natural beauty. Let's talk about everything you need to know before visiting it. How to arrive, where to stay, the best things to do, and useful tips for backpackers coming right up. Welcome to our complete Bogotá travel guide for backpackers!
Bogotá Travel Guide: Arriving
Bogotá is a giant metropolis in the heart of Colombia. Since it's the capital city, it's well-connected to all other main cities both in the country and in the world.
You could arrive in Bogotá virtually from any other city in Colombia both by plane and by bus.
By plane
Most international flights arriving at the country land in the international El Dorado Airport, the main airport in Colombia, which it's located 12 kilometers away from the city center.
That same airport also receives domestic flights on its second terminal.
To arrive in Bogotá's center from the airport, you will have several options. Those include using the public transportation system, taking a taxi or Uber, or getting in touch with your accommodation and arranging private transportation.
If you choose the public system, you could use the Transmilenio, a fast bus system that connects the airport with La Candelaria for as little as 2.500 Colombian Pesos. But you should know that, if you arrive during rush hour, the Transmilenio is normally overflowed with passengers, and comfort is not at all guaranteed.
You could also take a public bus. The price is a little lower than the Transmilenio, but it still has the same downside: a lot of people traveling during rush hour. I choose this option and it took me around one and a half hours to arrive at La Candelaria.
Taking a taxi at the airport is one of the most expensive options, but also one of the most comfortable ones. The average price goes from 20.000 to 40.000 Colombian Pesos, but it's going to be faster than the public transportation system. I recommend you to call an Uber since the price will drastically go down.
If you have already booked accommodation, get in touch with it to find out about transfers. Sometimes it's going to be cheaper than a taxi, and it's definitely a safer option.
By bus
Two bus terminals are operating in Bogotá: the Terminal Central Salitre, and the South Terminal Satélite. They both receive national buses and are located relatively close to the city's center.
From any of them, you can also take a taxi, an Uber, a private transfer, or even the public transportation system.
If you choose using the public transportation system, I recommend you to check out Rome2Rio to see the best way to arrive from these bus terminals to your accommodation. Moovit is also a great app that will help you understand the best way to reach your destination.
Bogotá Travel Guide: Things to do
I gave two weeks of my trip to Bogotá, but I understand not everyone can dedicate it as much time. So, in case you don't have too much time, I wanted to leave you information about the best things to do there.
Whether you have 2 days or a week, let's make sure you make the best out of your time in this marvelous city.
La Candelaria
The first mandatory stop at Bogotá is the historic center, known as La Candelaria. It's a bohemian neighborhood where all the main attractions are located.
You could start by going to Plaza Bolivar, the main square in the neighborhood, where you will enjoy the sight of the most important historical and religious buildings in the city. It's a great idea to join a free walking tour to learn about Bogotá's history.
La Candelaria is a touristic district where, besides its colonial architecture, you will find several museums, accommodations, bars, and restaurants.
Another must is the Chorro de Quevedo, the main spot of the underground scene of the city. It's a beautiful square where you will find several bars and typical restaurants, along with live-music and bohemian free performances happening almost every day.
Graffiti Tour
Another great plan is to join a Graffiti tour that will lead you around La Candelaria and its surroundings most amazing street art. You will be able to see works by both Colombian and foreign artists, of different styles and with different stories.
Several companies offer the tour, and most of them are free, but it is recommended to leave a tip.
My personal favorite is The Original Bogota Graffiti Tour. They normally meet twice a day, every day at the Parque de Los Periodistas at 10:00 AM and 2:00 PM. Check out their site to get more information.
Museums
If you are into history or art, you are going to love Bogotá. I know I did!
I recommend you to visit the Museo del Oro, the most important gold museum in the world. There, you will be able to appreciate over 30.000 gold pieces and learn about Colombian pre-Columbian culture. It's open every day except Mondays and the entrance fee is around 5000 Colombian Pesos.
Another great museum is the Museo Botero. In this case, we are talking about an art museum located inside the Miguel Urrutia Art Center. You will be able to enjoy one of the most famous Colombian artist, Fernando Botero's greatest artwork. The entrance is free.
Monserrate
Monserrate is a famous hill from where you can appreciate an incomparable view of the city from above. It is one of the mandatory stops in Bogotá and has both tourist and religious importance.
At the top, you will also find the famous Basilica de Monserrate, a colonial church that has been a pilgrimage destination since colonial times.
To fully enjoy the visit, I recommend going only if the day is sunny and clear. Otherwise, you won't be able to appreciate the view.
The access point is located a few blocks away from La Candelaria. You could arrive walking, as I did, or by taxi or uber. Once at the entrance, you will have 3 options to reach the top of the hill: cable car, funicular, or walking.
The cable car and the funicular costs the same. Depending on the day of the week and whether it's a festivity or not, the price goes from 7.500 to 13.000 Colombian Pesos. (1,5 to 3,50 US dollars). Climbing by foot is for free, but keep in mind you will be facing over 500 meters of climb.
You can check out the prices and hours on this official site.
La Chorrera
La Chorrera is still kind of an unknown destination when in Bogotá. And I find that a shame since it's a gorgeous place to visit.
We are talking about the highest waterfall in Colombia, located in the Choachí region, approximately 2 hours away from Bogotá. It's a 590 meters high waterfall that has 6 falls in itself.
If you love nature, trekking, and stunning landscapes, it's definitely a must.
You can arrive at La Chorrera from Bogotá, by taking a 1 and a half hour bus to Choachí. The ticket costs somewhere around 2,5 US dollars. Make sure you let the driver know that you are going to La Chorrera, so he can indicate to you exactly where to get off.
Once at that point, you will still have to face a 4 kilometers long walk till the park entrance, or you can also take a moto-taxi for around 1,5 US dollars. We chose the first option and completely enjoy the trek.
Once in the park entrance, you will have to pay a 13.000 Colombian Pesos entrance (3 US dollars), that will allow you to visit all the waterfalls in the area.
Make sure you leave early in the morning to fully enjoy the day. If you are worried about going by yourself, several agencies sell a full-day tour where the transportation and guide are included.
Whatever option you choose, make sure you don't miss this amazing attraction in Bogotá.
Nightlife
No Bogota travel guide would be complete without talking about the vibrant nightlife the city has to offer. Since it's such a gigantic metropolis, the options to have a fun night are almost countless. From small bars to wild nightclubs, Bogotá has it all.
The first neighborhood I want to mention is the famous Zona T. It's located at the intersection of 82 Street and Carrera 13, and it's a great meeting point for both locals and tourists from all over the world. There are several restaurants, bars, and nightclubs for every taste to choose from.
La Candelaria is another great spot when it comes to finding a good party. In this neighborhood, the bars and clubs you will find have more a bohemian atmosphere and are frequented mostly by foreigners.
There is also a Zona Rosa, located in between the 79 and 85 streets and the Carrera 11 and Carrera 15. It's also one of the most vibrant neighborhoods to party all night long with both locals and tourists.
In my opinion, the best nightclub in Bogotá is called Theatron, in the Chapinero neighborhood. It's an enormous complex with several bars and clubs mainly directed to the LGTB community, where the party gets wild and lasts all night long. It's worth paying it a visit if you are in the mood for an unforgettable night.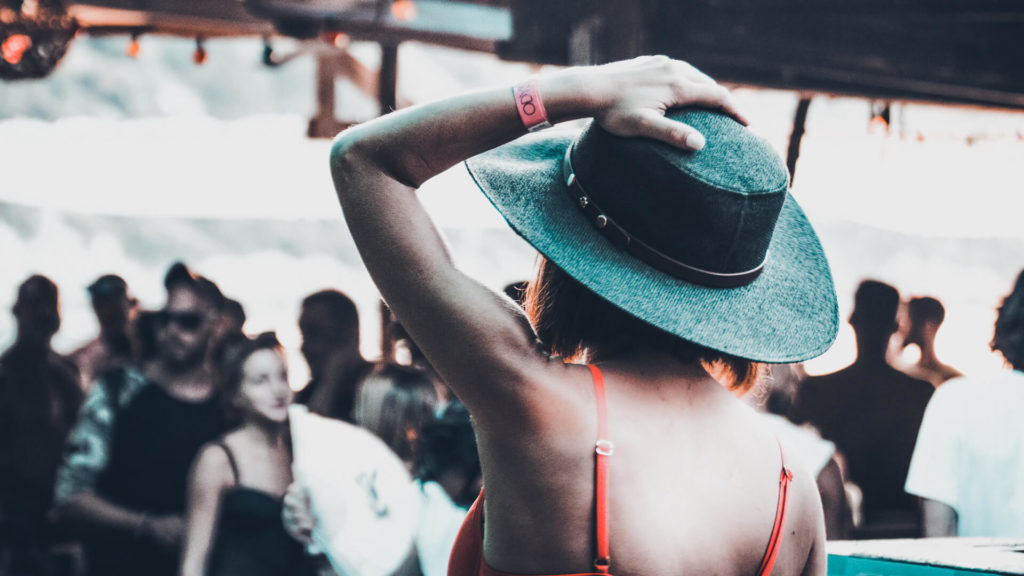 Bogotá Travel Guide: Accommodation
The best neighborhood to find good accommodation in Bogotá is definitely La Candelaria. The historic center is full of options for all kinds of travelers and all kinds of budgets.
If you are a backpacker, a hostel will probably be the option that better fits your needs. Good news, then. La Candelaria is full of them!
I recommend you to check out the BoGo Hostel & Rooftop, a great social place where I spent 2 weeks. The hostel is well-located and it's comfortable, the atmosphere is friendly, and it has a cool bar on the rooftop with a great view of the neighborhood.
You can also check out all the hostels and accommodations available in Bogotá here.
Bogotá Travel Guide: Tips for backpackers
By now, you know pretty much all the basics about Bogotá.
But before this Bogotá travel guide ends, I want to leave you some tips and advice to fully enjoy your backpacking adventure through this amazing city.
Weather in Bogotá
Unlike most of Colombia, Bogotá is a pretty cold city. The fact that it is located in height means that, both in winter and in summer, the nights are practically freezing. However, if the days are sunny, the weather during the day is quite pleasant.
Keep an eye on the rainy season that goes from March to November.
What to pack for Bogotá
It's a good idea to pack mostly warm clothing, jackets, long pants, and light coats. But make sure you also pack some light clothes to enjoy the day and indoors.
If you are visiting Bogotá during the rain season, make sure you carry a raincoat and a pair of rain boots as well.
Don't forget to pack a good pair of hiking shoes.
How to move around Bogotá
The public transportation system in Bogotá works pretty well. The best and cheapest way for getting from A to B is by using the Transmilenio, a bus network that works like a subway.
Different Transmilenios cover different routes in the city, and at each station, you will see a map with the routes and connections they make. To use this "subway", you have to buy an electronic card and recharge it with as many tickets as you need.
Finding taxis and Uber in Bogotá is also really simple, and I recommend this option especially during night time, for safety purposes.
Travel insurance
As I always say, it's a good idea to get travel insurance for your backpacking adventure. It might feel like a waste of money if you don't need it, but it will definitely save you in case something goes wrong.
Our recommended company is WorldNomads, since they offer full coverage even in long-term travel and to several destinations. You can also check out the post we wrote about choosing the best travel insurance for you.
If you have any questions or suggestions, feel free to leave a comment below. We'll be happy to hear from you!
Ready to enjoy Bogotá? Have a great adventure!