Peru is one of my favorites countries in the world. I have visited it on 3 different occasions and spent a total of 8 months there. And I'm sure I will be back again. It has so many things to offer! So if you are planning a backpacking adventure through Peru, you have come to the right place. Here we have gathered all the information you will need in order to get ready for your trip and enjoy this amazing country as its maximum. Let's get started: Peru awaits!
Backpacking Peru: General Information
IN GENERAL
PASSPORT AND VISA (FOR SOME)
YELLOW FEVER
LANGUAGE:
SPANISH
CURRENCY
NUEVO SOL PERUANO
SOME PRICES

1 BEER:
6 S/
1 MEAL:
8 S/
1 NIGHT:
25 S/
WATER BOTTLE:
3 S/
Requirements to Backpacking Peru
Visa and Passports
Peru is mostly a country of free access. People from most countries in America and Western Europe do not require a visa to visit it as tourists.
To enter Peru you will need a current passport with a validity of at least six months from the date of entry into the territory. But citizens of Argentina, Brazil, Paraguay, Uruguay, Ecuador, Colombia, Bolivia, and Chile will just need their national identification documents.
You will need a Visa to visit Peru if you are from:
– In Europe: Albany, Armenia, Azerbaijan, Bosnia and Herzegovina, Georgia, Kosovo, Macao.
– Any African country, except South Africa.
– Most Asian countries, except for Brunei, China, Philippines, India, Indonesia, Israel, Japan, Malasia, South Corea, Singapur, and Thailand.
– In America: Cuba, Haiti, El Salvador, Nicaragua, and Venezuela.
How long can you stay?
When you enter Peru, the migration agent will write down on your passport how long you are allowed to stay in Peruvian territory. This can be any time up to 90 days. Make sure you check it out to being aware of the time limit. Anyway, you can request to extend your stay – even more than once – to complete up to 183 days in the country.
If you want to extend your stay in Peru, you will have to request the permanency extension on the Peruvian Migration site. You will then have to pay the processing fee (around 3 dollars) at any "Banco de la Nación" agency or through an online application.
Sounds really simple, right? Well, it is. Unless you are unlucky like we were! The officer who registered our entry wrote our names wrong, so we couldn't fill-up the form on the internet and we had to request a permanency extension in person at an office. It was a little annoying, yes, but still simple and cheap.
Vaccination
Traveling to Peru is a wonderful experience, but it can also carry certain health risks. Illnesses transmitted by mosquitoes and contaminated food are common, as well as traveler's diarrhea and altitude sickness. Make sure you take the proper precautions before venturing into Peru.
We recommend you to check out Peruvian's Migration site and your embassy site in the country to get informed about the vaccines and medicines you will need.
The yellow fever vaccine is requested on many occasions, especially if you are heading to a Jungle area. Make sure you get the vaccine at least 10 days before traveling.
Culture and Language
Peruvian culture is considered a joint culture. It was born from the confluence of the country's indigenous cultures -such as the Incas-, the Spanish culture, and some African and Asian influences.
You will be able to discover its unique culture through its wonderful gastronomy, music, and dances.
Peru has three different official languages. The Spanish, mother tongue of almost 85% of the population, the Quechua, spoke for about 13% of the population, and the Aymara, that almost 2% of the population speaks.
But don't worry, no one expects you to speak those three languages to communicate when you are backpacking Peru. Learning some Spanish basics can be a great idea. But anyway, in most touristic destinations you will find that the locals -especially those working on tourism-related areas- also speak English.
Currency and Budget for Backpacking Peru
The Peruvian currency is called Nuevo Sol Peruano. At the moment of writing this post, 1 US dollar equals 3,51 Nuevos Soles. Here we have gone through some common prices that you will find during your backpacking trip. Check them out as an estimate to plan your budget:
Buying a small water bottle will cost you about 1,5 Nuevos Soles.
Having lunch at a local restaurant could cost you between 6 and 12 Nuevos Soles.
A night at a shared dorm in a hostel will cost you between 20 and 50 Nuevos Soles.
Eating typical street food will cost you 5 Nuevos Soles.
Buying a beer at a supermarket can cost you around 6 Nuevos Soles.
Don't forget to check out how much the Nuevo Sol Peruano is worth before arriving in Peru for your backpacking adventure.
Climate and Geography
Traveling to Peru is an incredible experience, regardless of the time of year. The varied geographical wealth of the country is one of the main reasons why it receives so much international tourism. Essentially, 3 regions are distinguished: the coast, the mountains, and the jungle. Each one has its own climatic characteristics.
In the coastal region, the arid subtropical climate remains constant throughout the year, with little rainfall and warm temperatures.
In the region of the mountains, where Cusco, Puno, and Arequipa are located, there are two very marked seasons. The rainy season lasts from November to March. The dry season, from April to October. Keep in mind that dry season is the best time to visit Macchu Picchu.
And finally, in the Peruvian jungle region, the rainy season lasts almost all year round, with a dry season period that runs from June to August.
Backpacking Peru: Top destinations
CAPITAL: Lima
POPULATION: 31.99M
AREA: 1.3M km2
TOP 5 TO DO:
1- The Sacred Valley of the Incas (CUZCO)
2- Machu Picchu (CUZCO)
3- Amazon Rainforest (IQUITOS)
4- Huacachina Oasis (ICA)
5- Colca Canyon (AREQUIPA)
CURIOSITY:
Peru is the most visited country in South America. It has amazing architectural features like Machu Picchu, and plant and wildlife species found nowhere else on earth. Peruvian gastronomy is one of the most famous and delicious in the world.
Now that you know all the basics to plan your backpacking trip through Peru, it's time to discover some of the best destinations in this magical country. Make sure you know enough about them to successfully plan an itinerary that won't leave anything out.
Lima
Lima is the capital city of Peru. And as a capital, it's a huge city with lots of things to see and do. In fact, is one of the biggest cities in South America. Its colonial historical center is beautiful and well conserved.
When backpacking Peru, you will surely pass by Lima on your way into or out of the country, if you arrive directly by plane. But even if you are traveling by land, I recommend you not to skip this beautiful city.
Best things to do in Lima for backpackers
You could start by going to the Plaza de Armas, the main square in the city, where you can appreciate the historical buildings. The Parque de las Aguas is an incredible walk that almost nobody knows about, where the main exhibit is its interactive fountains of dancing waters. It's a great spot to take beautiful pictures.
Make sure you visit the Miraflores neighborhood. Once there, go to the Parque del Amor to see a beautiful sunset by the ocean. The Larcomar shopping center is a beautiful spot to spend a nice afternoon. You shouldn't miss the Kennedy Park, and the Huaca Pucllana ruins.
Barranco is another great neighborhood, this one a little bit more bohemian than the rest of the city. There, you will be able to enjoy a great walk by the seashore, try some local food or drinks at its many cool restaurants and bars, or get lost while walking through its colorful street fairs. Another great thing about Barranco: its walls are full of amazing graffitis.
The best places to find accommodation in Lima are Miraflores and Barranco. We stayed in Miraflores, in the Pool Paradise Hostel. Other great options are The Point Hostel, in Barranco, and the Pariwana Hostel, also in Miraflores.
If you are going to Lima, make sure you read our complete travel guide to make the best out of your time there.
Check out all the accommodations in Lima here.
Paracas
Located a few kilometers away from Lima, Paracas is a must when you are backpacking Peru. It is a city on the west coast of Peru, known for its beaches, its National Reserve, and for being the starting point towards the Ballestas Islands.
Best things to do in Paracas for backpackers
The Ballestas Islands are uninhabited. Still, they are home to sea lions, pelicans, a wide bird variety, and penguins. You can hire a tour from Lima or you can go directly to Paracas and book it there. If you decide to do the Ballestas tour, you will surely enjoy beautiful landscapes and take a close look at the lovely animals.
The Paracas National Reserve is a stunning colorful place. It extends through the desert, ocean, islands, and the Paracas peninsula. It hosts an incredible abundant fauna, and it's full of history as well. There's even a museum in this place!
Engraved on the side of a hill, you will see the huge Candelabra prehistoric geoglyph. This amazing and mysterious "draw" is related directly to the famous Nazca lines. Nobody knows exactly how it got there, or how it was able to resist the time passing by. But it's definitely a must.
Most travelers visit Paracas on their way from Lima to Ica, or vice versa. This is because it's possible to do pretty much everything on the list in just one day. However, Paracas has also beautiful beaches. So, if you want to stay a little longer, you can check out all the accommodations available here.
Ica
Four hours by bus away from Lima, you will find the city of Ica. Ica is famous for being one of the main wine centers in Peru. Countless farms and vineyards work in the production of Pisco, the alcoholic beverage per excellence in the country.
Best things to do in Ica for backpackers
As we mentioned just now, visiting one of the many pisco vineyards is one of the best things you can do on your way through Ica. You will have the opportunity of learning some interesting facts about pisco production and try out some of the best ones. Be careful, though, pisco is a really strong drink!
The city also hosts the "Adolfo Bermúdez Jenkins" Museum. It's a regional museum where a collection of pieces from the Paracas, Nasca, Huari, Ica, and Inca cultures is exhibited. It's a great stop for those who love history.
By itself, Ica is not one of the most beautiful destinations in Peru. But it's the gateway door to access the incredible Huacachina town. We recommend you to stay at accommodations in Huacachina, located just 5 kilometers away from the city. From there, you can go to Ica by bus or by taxi.
Huacachina
When backpacking Peru, Huacachina is something that you shouldn't miss. Located in the middle of the desert, Huacachina is a small natural oasis. In fact, it's the only oasis in South America.
All the constructions and streets were built surrounding the oasis lagoon. As a result, the town is so small that you will be able to walk through it all in just one day.
Best things to do in Huacachina for backpackers
The main activities in Huacachina are sandboarding in the desert and going for a buggy ride. Both activities are often offered on the same tour. And let me tell you, it's a really fun tour!
Don't forget to admire the sunset on the dunes and enjoying the incredibly starry sky at night. Walking around the lagoon shore and having lunch or dinner at one of its colorful restaurants is also a great plan.
Huacachina has a great vibrant nightlife even though its such a small place. If you are in the mood for a night out, you will find plenty of bars and clubs in the area. We recommend you to start your night at the great Wild Rover Hostel, where you will find people from all over the world ready to have fun. You could also stay there, as it has a great swimming pool to deal with the day's heath and a fabulous vibe.
If you are thinking about going, make sure you read this complete guide to Huacachina first. And you can also check out all the accommodations in Huacachina here.
Nazca Lines
If you are into history and unsolvable mysteries, you will love Nazca. The Nazca Lines are a group of pre-Columbian geoglyphs extended in the desert sands.
They cover an area of ​​almost 1.000 square kilometers. There are around 300 different figures, including animals and plants. They are made up of more than 10,000 lines, some of them 30 meters wide and more than 9 kilometers long.
These geoglyphs are enormous in size. The only way to observe them is from above. This has given rise to countless theories about the purpose of their creation. Nobody could solve the mystery yet.
Visiting the Nazca Lines is a must for backpackers around Peru. Sadly, the easiest way to observe them is also the most expensive one. Taking a plane ride above the lines costs around 100 dollars. Plan B consists of going to one of the many observation towers. You won't be able to see all the lines, but it's going to be so much cheaper!
Most people stay in Paracas o Ica and visits Nazca from there. If you still want to spend the night in Nazca, you can check out all the accommodations available here.
Arequipa
Let's travel now all the way to Arequipa. You can arrive in Arequipa by bus from every other main city in Peru, or by plane from other cities' airports. We went to Arequipa directly after Huacachina, and you could do the same if you are heading south.
Arequipa is known as the White City. This is mainly for two reasons. First, its historical center was mostly built with "sillar". That stone is responsible for giving them the white color. And second, because Spanish people assented here during the conquer times, which resulted in this nickname for the skin color of his inhabitants.
Best things to do in Arequipa for backpackers
As Arequipa is a colonial city, the first thing to do is walking around the historical center and admiring the beauty of its constructions. The main square, the Plaza de Armas, is a great spot to start. The city's cathedral, located in that square, also functions as a museum and is an interesting walk if you are into history.
There are also many other churches, museums and monasteries around the city worth visiting. The Santa Catalina monastery is one of them. In it, you will see a small walled citadel with cloisters, streets, squares, houses and cobbled floors from the 16th century.
The Museo de Los Santuarios Andinos is another must when backpacking Peru. There, you will have the opportunity of seeing Juanita, an impressive Inca mummy. It's believed she was offered as a sacrifice for the Inca's gods.
Of course, don't forget to visit the amazing Colca Canyon during your backpacking adventure through Peru. It's located in the Colca Valley, 140 kilometers away from the White City. You can book tours to visit it from Arequipa or going on your own by taking a bus to Chivay and another one to Cabanaconde.
We also wrote a complete travel guide to Arequipa with all the best things to do there. In the meantime, you can check out all the accommodations in Arequipa here.
Cusco
When you think about backpacking Peru, what's the first destination that comes to your mind? I'm 100% positive your answer was Macchu Pichhu. Well, the time for this World Wonder has arrived!
Cusco is one of the most visited cities in South America. It was once the Capital of the Inca empire. And it's the tourist capital of Peru today.
There's so much to do in Cusco that we are working on a special post dedicated exclusively to it. But in the meantime, here we have listed some of the best things to do in this magical city.
Best things to do in Cusco for backpackers
We recommend you start by walking around the historic center. Start at the Plaza de Armas, the main square, and appreciate the amazing colonial constructions. And, why not? Visit the Cathedral as well.
There are lots of local markets in Cusco. The main one is the San Pedro Market. There you will find a large variety of handcraft work, typical clothes, and souvenirs. Remember to bargain everything as much as you can!
It's a great idea to buy a ticket for the whole touristic circuit. This ticket is regulated by an association conformed by the Municipality, the Culture Directorate, and the Tourism Directorate. By paying it only once, you acquire the right to visit for the next 10 days, 16 of the most impressive places in the city of Cusco.
You will have also the option of paying partial touristic tickets, which will give you the right to visit only some of these places. The ones you shouldn't miss in the city: Sacsayhuaman, Qenqo, Tambomachay, and Puka Pukara.
There are also some other landmarks and temples located in the Sacred Valley. The main ones are Pisac, Ollantaytambo, Chinchero, and Moray.
Once again, we stayed at the amazing Wild Rover Hostel. But you can check out all the accommodations available in Cusco here.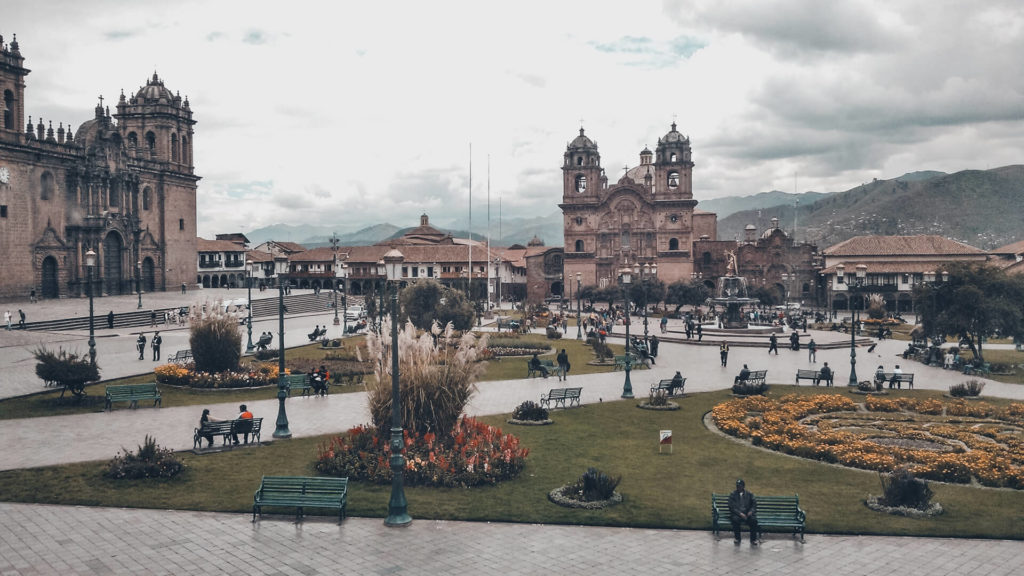 Macchu Picchu
I don't think that any traveler in history has ever visited Peru and missed the main attraction. Macchu Picchu is not only a must when backpacking Peru. It's also the principal reason why this country is chosen by travelers all around the world.
The Macchu Picchu ruins have been declared one of the New Seven Wonders of the Modern World. And no wonder why! This ancient Inca citadel is located on the Inca's Sacred Valley and receives around one million tourists every year.
To arrive at Macchu Picchu you will have to go to Aguas Calientes. That's the name of the town located at the foot of the Macchu Picchu ruins. To do this, you will have two main options.
The first one, going to any tourist agency and buying a tour. The price will differ depending on whether you'd like to pay for the train ticket directly to Aguas Calientes, or taking a bus to Hidroelectrica and then walking through the train tracks. You have also the option of hiring a 2 to 4 days trek through the jungle.
The second option is to go on your own. Instead of buying a tour including all the items, you will have to hire transportation, accommodation, and the Macchu Picchu entrance ticket separately. This way, you will surely save some money. But make sure you do all the reservations with plenty of anticipation time.
Stay tuned. we will publish an article with everything you need to know before going to Macchu Picchu real soon.
Puno
Titicaca Lake is definitely another must when backpacking Peru. Puno is the starting point to visit this famous Lake, and it's often the last or the first city tourists visit in Peru if they travel by land, on their way to or from Bolivia.
Puno is a quiet small city. Like most cities in Peru, its historical center is the first mandatory stop. But, of course, the main attraction is the Titicaca Lake.
Titicaca Lake
Titicaca Lake is often called the highest navigable lake in the world. It's a fascinating destination in Peru, not only for its privileged landscapes but also because it enables its visitors to interact and get in touch with local interesting cultures.
The best thing to visit the lake is to hire a boat ride tour. There are a lot of different companies and they all offer pretty much the same. Make sure the one you book includes at least these three stops:
The Uro's floating Islands. The Uros are a group of artificial islands built from dried reed reeds and woven by hand by their inhabitants. The islands are home to the native Uru community of Peru and are part of the Titicaca National Reserve.
Taquile Island. Taquile is one of the most beautiful islands in Lake Titicaca. Its inhabitants are a Quechua-speaking community of approximately 2,000 people dedicated to raising farm animals, weaving, and producing family crafts.
Amantani Island. Amantani is the largest island on the Peruvian side of Lake Titicaca and is home to one of the largest island populations in South America, with almost 4,000 inhabitants. The current inhabitants of Amantani complement their agrarian economies with fishing, crafts, and tourism.
You can choose between a full-day tour or even spend the night in one of the Islands, where native communities will welcome you into their homes. Make sure you try the tasty local dish: fresh trout directly out of the Lake.
You can check all the accommodations available in Puno here.
Máncora
Máncora is one of the most famous coastal cities in Peru. It's frequented by surfers from all over the world, due to its perfect waves for this sport. However, Mancora is a bit far from the rest of the tourist destinations in this area.
Located in the Piura department, in the Peruvian North, Máncora is a great spot for young people backpacking Peru. It's a small developing town, where the main attractions include beach time, an amazing sunset by the sea, and the most vibrant nightlife you can find.
It's also one of the best party beaches in South America! Feel free to check out the others in this post we wrote about it.
Best things to do in Máncora for backpackers
The first thing you should do when you arrive in Máncora is to walk along the coast. You will find a great variety of small and cheap restaurants where you can have breakfast, lunch, or even have a few delicious fruit drinks in the afternoon. Don't miss the sunset. It's a wonderful spectacle watching the sun setting over the sea.
You can take a minivan to go to Organos, a nearby small town where you can enjoy an almost desert beach. From there, take a bus or motorcycle taxi to El Ñuro, where you will able to swim with turtles!
Another great beach worth visiting is the beautiful Punta Sal, a paradisiac white sand beach 15 kilometers away from Mancora.
If you go to Mancora from July to October, chances are you will be able to watch the humpback whales on their annual migration. The best thing to improve your chances of seeing them is taking a boat ride.
Máncora has an incredible nightlife. Travelers from all over the world go out at night in search of fun along its pedestrian streets. We recommend you to start your evening by having some drinks at one of its many seashore bars, and maybe going afterward to one of the best party hostels in town. These are the Loki Hostel, the Point Hostel, and the Wild Rover Hostel.
We stayed in the Wild Rover Hostel, where we volunteered for almost two months. It's a great fun place with a nice swimming pool, a bar, and a unique vibe. You can check out all accommodations available in Máncora here.
Make sure you read our complete travel guide to Máncora before arriving.
Iquitos
Last but not least, Peru has one more thing to offer its travelers. Having a great amazon jungle experience is a great idea when backpacking Peru. And if this sounds like something you might be interested in, then Iquitos is the right destination for you. However, there's a small detail: Iquitos is the largest city that cannot be accessed by land.
So how do you arrive in Iquitos? By plane, mostly from Lima, but having also the options from Tarapoto and Pullacpa. And by boat, from Pullacpa or from Yurimaguas.
Best things to do in Iquitos for backpackers
The historical center is a great first stop in Iquitos. Once there, you will be able to reach the ship Ayapua museum and take a walk around the Central Market and the Mercado de las Flores.
The amazon rescue center "CREA" is a must for animal lovers. It's a place that works rescuing and rehabilitating animals in danger, where you will able to see manatees, pink dolphins, sloths, and anteaters. Piplpintuwasi is another great place. It's mainly a butterfly center, but also works as a rescue center for many species of wildlife.
The Pacaya Samira National Reserve is known as the largest protected floodplain forest area in the Amazon. A great diversity of birds, mammals (including the pink dolphin), reptiles, amphibians, fish, and wild and cultivated plants live in the reserve. It is the perfect place to get in touch with native nature.
If your backpacking path has taken you to Iquitos, don't miss the opportunity of embarking on a trip around the Amazonic Forest. You will have many options to choose from depending on what you want to see, how much your budget is and how much time you have for the adventure.
Take a look at all the accommodations available in Iquitos here.
Backpacking Peru: Tips & Advice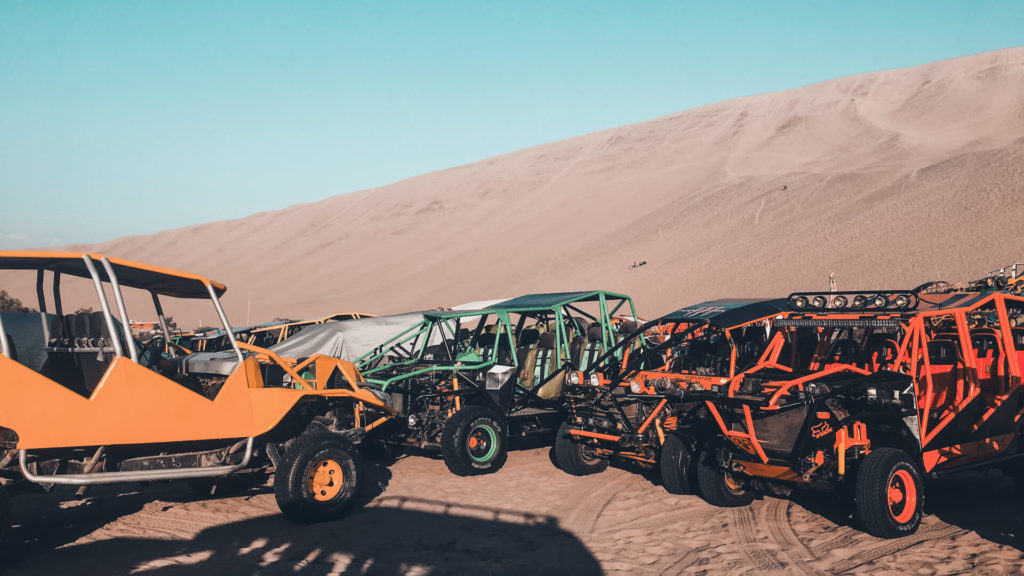 Be aware of altitude sickness.
Altitude sickness or "soroche" -as locals call it- is the discomfort that occurs from approximately 2,400 meters above sea level. As pressure increases, blood oxygen decreases (this is called hypoxia) and symptoms begin to occur. Some of the typical symptoms of altitude sickness are headaches, nausea and vomiting, fatigue, difficulty breathing/shortness of breath, and loss of appetite.
Backpacking through Peru you will surely hear about this discomfort. Fortunately, there are a few things you can do to reduce the risk of suffering altitude sickness, or fighting the symptoms if it's happening to you.
You can find medicines that will help you at any pharmacy. The most common ones to treat the symptoms are diamol, ibuprofen, and paracetamol. If you ask for a "Mal de Alturas" pill, the pharmaceuticals will know exactly what to give you.
Another common remedy is using the well-known Coca leaves. You can feel better either chewing Coca leaves or drinking Coca tea.
Flying to and from Lima is normally cheaper
If you are planning on backpacking Peru exclusively, flying to and from Lima is going to be the more economical option.
You should know that, besides finding the best plane tickets deals to and from your country, Lima is one of the most economical airports to fly within all South American continent. This means that, if you are thinking about backpacking other countries in the area, you should give priority to flights from and to Lima.
The same thing applies to travel inside Peru. Sometimes, with a little anticipation, you can find plane tickets as cheap as buses to move around. You could then flight from Lima to Cuzco for the same price that you would pay for a long bus.
But remember to pack light. Most times, these economical tickets don't include checked luggage. If you have too many things on you, you could simply leave the big backpack at your hostel and take a smaller one with you to spend a few days in other destinations.
Don't miss the opportunity of trying Peruvian Gastronomy
Peruvian cuisine is one of the most varied in the entire world. Of course, there is a reason why his fame has grown so much internationally. It is delicious!
When backpacking Peru, you cannot miss the chance of trying some of the most delicious dishes in the world. You won't even have to spend lots of money to do it. The variety of typical Peruvian recipes can be found in all kinds of restaurants and dining rooms. There are options for all tastes and budgets.
We strongly advise you to try the Ceviche, a fish-based delicacy prepared with lemon juice and onions. If you can do it at Mancora or another coastal city, much better.
In Lima, try the Lomo Saltado, an exquisite meat-based preparation served with vegetables, rice, and french fries. Don't forget to taste the Aji de Gallina, Papas a la Huancaina, and the delicious Arroz Chaufa.
Make sure you try local dishes at least once in every city. Going to the local markets its a great option to make sure you will find the most authentic food and the best prices, besides being a great place to explore the local culture when backpacking Peru.
Take extra care of your belongings in buses
Peru is a safe country for backpackers. That being said, you will have to be extra careful when you take long-distance buses. Especially, night time buses.
It's not uncommon that people fall asleep and wakes up to realize they have been robbed. It never happened to us, but it did happen to a few good friends. It even happened on the same bus we were traveling a few times.
So don't put your backpacks or luggage under your seat, not even if its "secured" to your legs. I don't know exactly how they do it, but burglars have taken a lot of things from bags "secured" to the owner's legs. I know it's a little uncomfortable, but it's safer to sleep hugging your important things.
Before buying a bus ticket, it's a good idea to do a little background research. Some companies are safer than other ones, and previous users could have left reviews about it. Try not to hop on buses that make stops in the middle of nowhere. It's always better to pay a little more, but don't regret having lost your passport or your money.
With all this, we are not trying to scare you. We have traveled all around Peru in standard companies and we were always careful, so it never happened to us.
If you want to be completely safe, Peru Hop is a bus company that you should check out. It's a great bus service company where you can buy open tickets to travel around Peru at your own rhythm. The prices are a little higher but you will travel with local guides and surrounded by people from all over the world.
Learn how to bargain
Finally, this is pretty much the last advice we want to give you before your backpacking adventure around Peru. Learn how to bargain. You will need this, not only in Peru but in many other countries in South America.
Many times, when you ask for an item price you will be given a price that it's not final. You could ask "how much for these pants?", and the seller will tell you "50 soles" when they actually would sell it for 20.
Unfortunately, there is a kind of implicit "gringo tax" they expect you to pay because you look foreign. Use your common sense and check out the current currency exchange rates to make sure you are paying a fair amount for items.
Of course, not everything can be bargained. But almost everything can. From accommodation prices to tours, souvenirs, or even club entrances, pretty much everything can be negotiated in Peru.
We hope you had found useful this complete guide to backpacking Peru. If you have any questions or suggestions, use the comment section below. We will be happy to answer you as soon as possible. Thank you so much for reading.
Have a great adventure!