Every traveler backpacking South America is definitely visiting Ecuador. Not only it is one of the cheapest countries to travel to, but it also has amazing landscapes, several cool destinations, and a unique culture waiting to be discovered. So we bring you today all the information you will need to visit this incredible country. Welcome to our complete travel guide to backpacking Ecuador!
Backpacking Ecuador: General Information
IN GENERAL
PASSPORT AND VISA (FOR SOME)
YELLOW FEVER
LANGUAGE:
SPANISH
CURRENCY
UNITED STATES DOLLAR
SOME PRICES

1 BEER:
$1.5
1 MEAL:
$3
1 NIGHT:
$5
WATER BOTTLE:
$1
Requirements to travel to Ecuador
If you are part of South America, you can enter Ecuador just by showing a valid ID. Regarding the rest of the world, most nationalities don't need a visa to travel to Ecuador, so a valid Passport is enough.
By valid passport, we mean it should have at least 6 more valid months and at least one blank page.
The nationals of some countries in Africa and Asia do need to apply for a visa in advance to enter as tourists. You can check out Ecuador's Migrations Site or get in touch with your country's embassy, to see the requirements for you.
That said, most visitors can stay in Ecuador up to 90 straight days per year. In some cases, by paying a small fee, you can extend your stay for another 90 days.
There are no mandatory vaccines to enter Ecuador, but some vaccines are highly recommended. That's the case of Yellow Fever, and Hepatitis A and B.
We also recommend you to hire travel insurance. If you are a little lost with that, you can check out our complete guide to choosing the right travel insurance for you.
Culture and Language
Ecuador is a multicultural country, and that is reflected in practically all aspects: music, art, food, religion, and even clothing. Depending on whether you are in the mountains or on the coast, you will notice how the customs, the appearance, and the diet of Ecuadorians change.
The official language, and therefore the most widely spoken and widespread, is Spanish. If you are learning the language, don't be surprised if you can understand some Ecuadorians and you don't understand others at all: the accent varies greatly from region to region.
There are also several indigenous languages ​​such as Quechua and Shuar, spoken by approximately 5% of the population.
Currency and Budget for Backpacking in Ecuador
Before the year 2000, the official currency in Ecuador was the Sucre Ecuatoriano. But from then on, they use the US Dollar.
Here, we have gone through some common prices that you will find during your backpacking trip through Ecuador. Use them as an estimate to plan your budget:
Buying a small water bottle will cost you about 0,50 cents.
Having lunch at a local restaurant could cost you between 2 and 4 dollars.
A night at a shared dorm in a hostel will cost you between 5 and 10 dollars.
Eating typical street food will cost you 2,5 dollars.
Buying a beer at a supermarket can cost you around 2 dollars.
Climate
As its name suggests, Ecuador is located on the equator line. That means it doesn't have 4 different seasons, and its weather remains pretty much even throughout the year.
However, it does have a rainy and a dry season. The rainy season goes from December to May, but it's still the best time to go to the coast since the water gets warmer and the sun shines more often.
Keep an eye on the high season, from June to August and from December till Easter. Prices might go up during those times, and you will have to book in advance both accommodation and activities.
Ecuador is a small country, but that doesn't mean it's not rich in landscapes. There, you will be able to enjoy the Andes mountains, volcanoes, the Amazonia Rainforest, and even the beach.
Get ready to discover the top destinations for backpackers in Ecuador!
Backpacking Ecuador: Top Destinations
CAPITAL: Quito
POPULATION: 17.08M
AREA: 283.560 km2
TOP 5 TO DO:
1- Galapagos Island (GALÁPAGOS)
2- The Hot Springs of Baños (BAÑOS)
3- Cotopaxi and Cajas National Parks (QUITO)
4- Otavalo Market (OTAVALO)
5- Middle of the World City (QUITO)
CURIOSITY:
The summit of Mount Chimborazo, Ecuador's highest mountain, is the point on Earth closest to the sun. Due to the mountain's location along the equatorial bulge, its summit is the farthest point from the Earth's core. This also means that Ecuador is the closest country to space.
Quito
Quito is the capital city in Ecuador and a must for every traveler visiting it. Located almost 3000 meters above sea level, on the Andes's hillsides, it's an amazing example of the multicultural aspects that coexist in the country.
Its historic center is well-conservated, and it's a place that holds constructions both in Spanish and Indigenous styles.
How to arrive in Quito?
Quito has an International Airport located 40 kilometers away from the historic center. To arrive in the city, you will have the option to take a taxi or Uber (costing something like 25 dollars) or the buses the airport provides (for about 8 dollars). You can also use the public transportation system but despise being cheaper, it's more complicated and takes a long time, so I don't recommend it.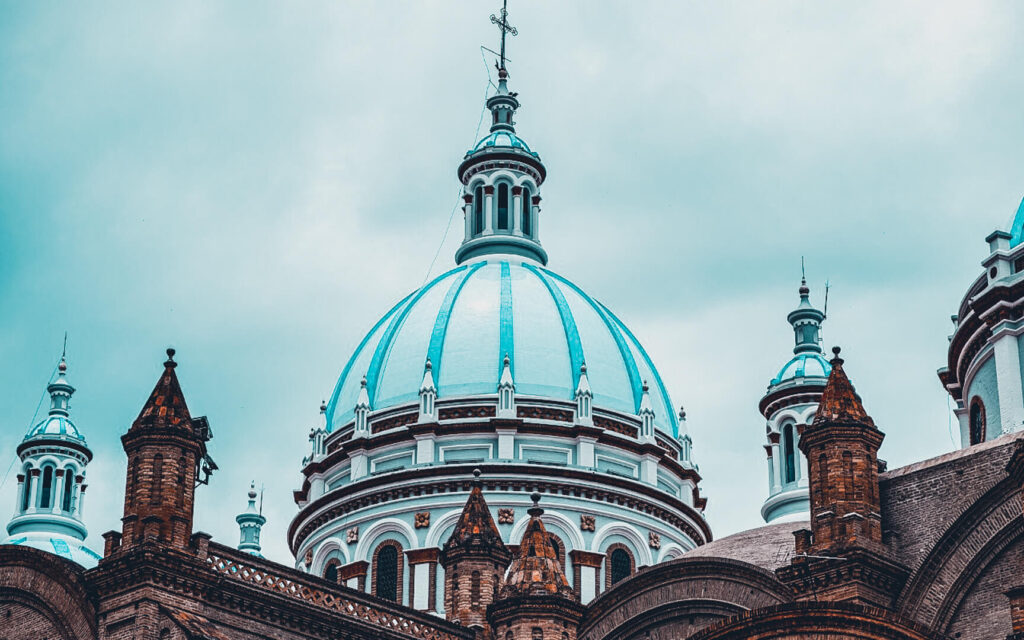 What to do in Quito?
Any visit to Quito begins at the historic center. Make sure you visit it both during the day and the night, to truly appreciate its colors and lighting. It's so beautiful and well conserved, that it was declared a World Heritage Site by UNESCO.
Once there, you can't miss the Basilica del Voto Nacional, the Catedral Metropolitana de Quito, the Iglesia de La Compañía De Jesús, and the Iglesia y Convento de San Francisco. To visit all those beautiful churches, you will have to pay a small entrance fee going from 2 to 5 dollars. Don't miss the Plaza de la Independencia (Main Square) where, besides the Catedral, you will see the City Hall, the Government Palace, and the Archbishop's Palace.
It's also a great idea to ride the cable car and go to Cruz Loma, a lookout point located 4000 meters above sea level. The cable car ticket costs 8,50.
Make sure you start the night by walking around La Ronda Street, a beautiful colonial alley located in the historic center, where you will find several bars, restaurants, and handicraft markets.
But don't just stop there! Go to Plaza Foch, in the Mariscal neighborhood, where the nightlife doesn't stop, especially from Thursday to Sunday.
And, of course, I can't talk about Quito without mentioning the Half of the World. That is the place where the line of the equator passes and divides both hemispheres. There is a nice monument and you can enjoy a great view, small restaurants, and interesting museums. The entrance costs 5 dollars per person.
Where to stay in Quito?
Since we haven't book anything in advance for Quito, we just assumed the best place to stay was the historic center. Don't make the same mistake!
The best neighborhood to book accommodation in Quito is Mariscal Sucre, more specifically, the surroundings of Plaza Foch.
Since we didn't have the pleasure to stay there, I can't recommend any particular hostel, but you can check out all the accommodations available here.
Cotopaxi
Not far away from Quito, the Cotopaxi waits to amaze the most daring adventurers. It's one of the most majestic active volcanoes on the Andean mountains, with 4500 meters high, located inside the Cotopaxi National Park.
That same National Park is also home to the Sincholagua and the Ruminawi volcanoes, but those are smaller, and, therefore, not so famous.
How to arrive in Cotopaxi National Park?
Depending on your itinerary, your budget, and your preference, you can visit the Cotopaxi Volcano while staying in Quito on your own, or hiring a day-tour.
You can use the public transportation system to take a bus that takes you to the entrance of the National Park, 50 minutes away from Ecuador's capital city.
The other option is way more comfortable and easy. Hiring a tour will save you the trouble of getting there on your own and will include a guide to help you throughout the climb, that is, if you choose to climb. If so, you can spend the night at the Jose Rivas Refuge, aka Cotopaxi's base camp.
Unfortunately, we haven't visited the Cotopaxi just yet. But if you are interested in finding more information about it, I recommend this post from The Nameless Blog.
Baños
If you continue heading south after the Cotopaxi, you will find the lovely Baños de Agua Santa, a beautiful small town that attracts tourists from all over the world.
Baños is located in the Tungurahua province, the last touristic town before entering the Amazon Rainforest. That's why it's known as the Gateway to the Amazon.
What to do in Baños?
Named after the many hot springs found in the region, going for a relaxing hot spring day, or even spend time at a spa it's a great idea.
But Baños is also one of the best destinations for backpackers in Ecuador that care for adventurous and outdoor activities. To name a few, you will be able to do zipline, rafting, and hiking.
The most famous touristic attraction in Baños is definitely the Swing at the End of the World. If you haven't heard about it, we are talking about a swing located 2600 meters high, on the cliff of the mountains.
The place where it's found is called Casa del Arbol, meaning the Tree House. You can arrive there with a tour, or trough a roughly 11 kilometers uphill hike.
Where to stay in Baños?
Baños has a lot of accommodations available for those backpacking Ecuador on a budget. It's basically a backpacker's paradise! So check out all the hostels available here and choose your favorite.
Don't forget to book your night in advance, especially if you are visiting Baños during the high season.
Cuenca
Cuenca is the third most important city in Ecuador, and definitely a mandatory stop for backpackers. Just like Quito's historic center, it has been declared World Heritage Site by UNESCO, due to its fantastic colonial constructions.
How to arrive in Cuenca?
Cuenca is a great place to visit after Quito or Baños, and you could arrive there virtually from any other city in Ecuador. There are both an international airport and a bus terminal in the city, so you can also fly if you're in a hurry, and not so worried about your budget.
They are both located close to the city center; the bus terminal, around 10 minutes away; and the airport, around 15 minutes away. You could take a taxi, an Uber, or even public transportation to arrive at your accommodation.
What to do in Cuenca?
As I always say, it's a great idea to start by visiting the historic center on foot. Go to the main square and admire the two Cuenca's Cathedrals. There are also several more churches to visit. Don't miss the Iglesia Santo Domingo, the Iglesia de Las Conceptas, and the Iglesia Carmen de la Asunción.
That last church is located right beside the Plaza de las Flores, or flower's square, where locals go to buy flowers nearly every day. It's a colorful place to see when backpacking in Cuenca.
Don't forget about the many markets Cuenca has to offer. Some of the best ones are the 9 de Octubre market, the San Francisco market, and the 10 de Agosto market. There, you will be able to try some of the most delicious typical food at the best price and learn more about Cuenca's culture.
If you are in the mood for a fun nightlife, Cuenca is not going to meet your expectations. Andres and I spent a month there and never found anything more than a few cool bars there. Most bars are located all along the Calle Larga and distributed around the historic center.
Where to stay in Cuenca?
As I just said, we spent a month in Cuenca because we were volunteering at a hostel. That gave us the opportunity to really get to know the city. The hostel itself is called Anicha Hostel, and it's a great choice for those looking for a quiet, vegetarian place to stay. It's located in the historic center, it has a great price, and serves a good healthy breakfast.
Guayaquil
I just pointed out that Cuenca was the third most important city in Ecuador. Well, Guayaquil is the second one! An interesting fact is that it's even bigger and more populated than Quito.
Guayaquil is known as the gateway both to the Pacific Coast and to the Galapagos Island. So it's definitely a must when backpacking Ecuador.
It's a lovely port city that, despite being so huge, doesn't have so many buildings and still has an old fashioned look.
How to arrive in Guayaquil?
You can arrive in Guayaquil virtually from any other important city in Ecuador. The city has both an airport and a bus terminal located close to each other, only 5 kilometers away from the city's center.
You can then use Uber, Taxi, or public transportation to reach your accommodation. Another good option is to contact your hostel/hotel and ask for a transfer service to pick you up.
What to do in Guayaquil?
I recommend you to start by walking along the Malecón Simón Bolivar, a beautiful modern-looking boardwalk on the shores of the Guayas River. It has 2.5 kilometers along which you will find all kinds of tourist attractions, squares, museums, and lookouts.
You will find also several bars, restaurants, and malls, which makes it a great plan for spending a few hours also after sunset.
Don't miss the Cerro Santa Ana, a hill from where you'll be able to admire a nice view of Guayaquil, and will see lots of bars and restaurants also. Use your time to wander around in Las Peñas colorful neighborhood.
Probably one of the most iconic squares in Guayaquil is the Seminario Park, better known as the Iguanas Park or Square. As it's indicated by its name, several free iguanas live in the park, and you can relax while observing them sunbathing or feeding. You can also use your time there to admire and visit the Metropolitan Cathedral.
Where to stay in Guayaquil?
Guayaquil has a wide variety of accommodations for all kinds of travelers, tastes, and budgets. As we always say, if you're traveling on a budget or backpacking alone or with friends, a hostel might be the best fit for you.
Make sure you check out Dreamkapture Hostel, a simple, clean, and friendly place to stay. They offer both dorms and private rooms, free breakfast, and the staff will happily help you out with information about Guayaquil and other backpacking destinations in Ecuador.
Montañita
Montañita is THE beach destination in Ecuador. Located on the south coast of the country, it's a very special town, where parties and nature encounter.
As it is a small village, it doesn't have too many services. But you can find hotels, hostels, restaurants, bars, and nightclubs everywhere. It's a place that's pretty much built for surfers and tourists!
How to arrive in Montañita?
You can arrive virtually from any other city, but most people arrive by bus after they leave from Guayaquil. If you are traveling from Peru heading to Ecuador, it's a good idea to take a bus directly from Máncora.
There's a small "bus terminal" in Montañita, where buses coming from and leaving to nearby cities arrive and depart. But if you're thinking about flying, your only option will be to book a flight to Guayaquil, and then arrive in Montañita by bus. That stretch will take you around 2 hours.
What to do in Montañita?
Answering that question is pretty simple: surf, go to the beach, and party like there's no tomorrow! We mentioned Montañita before in our post about the best party beaches in South America, and there's an obvious reason for that.
Even though it started as a major surfers destination, it has slowly become one of the best destinations for backpackers looking to party hard. Especially during the New Year's season, when the streets get crowded and the party never stops. As I already said, you will find several bars and nightclubs to enjoy during the day and night.
I'd say the perfect day in Montañita starts enjoying the beach, maybe taking a surf lesson, watching the amazing sunset, and finally, going for a wild night beginning at the Calle de Los Cocteles (or cocktails street).
If you survive the hangover, don't forget to visit the beautiful Olón town, a few kilometers away from Montañita. Is another beach town, much quieter and much cheaper, great for spending a relaxing day at the beach.
Where to stay in Montañita?
There are lots of hostels and accommodations for backpackers in Montañita. Unfortunately, the one we stayed in doesn't exist anymore, so I suggest you check out all the accommodations available in Montañita on this link, and choose the one that better suits your budget and expectations.
We are sure you're going to spend a great time, no matter the hostel you choose!
Galapagos Island
Last but not least, we need to talk about one of the most famous destinations in Ecuador, and probably in South America: the Galapagos Islands.
Famous for the giant turtles, Darwin, and the abundant fauna that inhabits them, the Galapagos are a must when in Ecuador, as long as you can afford them!
Unfortunately, we haven't been to Galapagos, we were traveling on a really tight budget back then. But it's something that we really want to do soon.
In the meantime, we recommend you to check out Nellie's post on WildJunjket.com, where you'll find a complete practical guide to visit the Galapagos.
Ready for your backpacking trip to Ecuador? Let us know if you have any questions or suggestions down below.
Have a great adventure!