During your traveling adventures, you will find many problems you will have to solve. You might face difficulties considering how to move or have some trouble communicating with locals. Perhaps, you will have doubts about the local currency or encounter many other small unexpected issues. It's impossible to take everything into account during the planning of your trip, even after careful preparation. Fortunately, there are great useful apps that can help you solve these problems while traveling. Keep reading, because we have listed below the best 10 travel apps and platforms that we use during our adventures. Check them out!
Best Travel Apps
We live in the technology era, there's no denying that. Electronic devices are all around. We no longer travel with an old fashioned compass and an antique printed map. Nowadays, we have everything we need to travel inside our pockets. So, let's use this in our favor!
There are lots of travel apps on the market. But we are backpackers. That means we care about our budget. So for us to consider an app or platform as one of the best travel apps, it has to be free.
Here you will find a list of the 10 best travel apps you must download before departing. And the best part? They will cost you exactly nothing.
Maps.me
Maps.me is a great offline map application very easy to use. When you are traveling to a new country or region, all you have to do is download the map of that particular area, and you will be ready to go.
It has very useful functions. For example, you can save placemarks to help you keep an eye on your itinerary. You can mark the hostel where you will be staying and the main locations of the city that you will visit.
This application is very useful when you are crossing country borders because the GPS function lets you know exactly where you are, even if you don't have access to a Wi-Fi or 4G network.
Once you arrive at any airport or bus station, you can simply activate the "route" function to find out how to move better. Or you can even show the route to your uber or taxi driver, to help him take you directly to your destination.
Traveling through many countries often makes it impossible to have an active SIM with 4G, so this application solves the connectivity problem when it comes to maps. For all these reasons, it's definitively a must-have and has made it into our 10 best travel apps list.
PROS:
The maps also mark trails and paths that do not exist on other maps (google maps, apple maps). In Costa Rica, we used it to move through the trails on the natural parks.
The maps can be downloaded according to your needs. You can download partial maps of the countries and regions you are going to visit.
CONS:
You must download every map update. Not being an online map, every modification must be downloaded manually to keep the application updated.
Rome to Rio
Another very useful application for your travels is Rome2Rio. It can be found both in the form of an app and on a website. We prefer to have it downloaded on our phones, to access it when we need to.
The purpose of this platform is to find the best transport options from point A to point B. You can sort the results based on price, the travel duration, or the amount of km to go.
Having a lot of luggage during our travels, we always prefer to travel by bus. A plane would cost too much. So this platform allows us to get an idea of ​​how much the trip will cost us and how long it will take. We can then decide what is the most suitable option for us.
Among the various functionalities that this platform offers, one of the most useful is precisely the fact that it allows us to compare rates between different transportation options. Sometimes, we had realized that by making stops in the route, we would spend a lot less than making a direct journey. So why not get to know that little town that is on the way?
Another very useful function is that it lists all the transport companies that make that particular route, helping and minimizing the organization's time of your itinerary. So, yes, it's one of the best travel apps we found.
PROS:
Among the various functionalities, there is also air transport, which means you can find also plane tickets.
You can use the website without having to register.
CONS:
The prices of the various transport companies are often not updated. So, even when you will get a pretty close estimate, it is always better to check the companies' websites directly.
Splitwise
This app was introduced to me by some friends while we were traveling through Costa Rica. Back then, we had to divide the various travel expenses between 5 people. As you can imagine, that often created confusion. Once we started using Splitwise, our life and our travel became simpler.
Splitwise made it to our 10 best travel app list because it allows us to keep track of every kind of expenses. You will just need to create an account with your email to start creating groups. Then, enter the common expenses that have been made and the app will do all the maths. It will help you keep track of how much each one owes.
This app is very useful for large groups, but once I started using it I have never stopped. We are currently traveling as a couple and we use this application for the various daily expenses that we have.
Among its various features, currencies can be changed, and therefore you can include different countries' expenses and transform them from one currency to another. It also allows you to download a monthly report to keep an eye on your budget.
PROS:
Exchange of currency available.
You can easily invite a new user into the group through his email.
CONS:
Some features only work for the Pro version.
Xe Currency
I'm sure you guessed it by its name. This application solves the problem of converting currencies. When you travel to a new country, you face the risk of not understanding well the value of the local money, especially the first few days. This travel app has made it to our top 10 because it helps you understand the real value of any currency in the world.
But there are so many currency apps… Why do I prefer this one? Mainly because Xe Currency works in offline mode and is very simple to use. Just set your favorite currency and, based on where you are, the application will reflect the official exchange value. It will update every time it finds a connection point to a network.
It's not strange that having just arrived in a new country, you will have to take a taxi, uber or any other transport to get to your accommodation. And some drivers often take advantage of the fact that travelers are not used to dealing with local money, so they ask for exorbitant prices. Hence, make sure you download this app and be aware of any currency real value.
PROS:
CONS:
If you want to add more currencies to your favorites you will have to switch to the pro version.
Uber
You probably already heard about Uber, and maybe you use it in your daily life. But maybe you didn't know that in many countries, the Uber service works much better than the taxi service. So it deserves to be in our top 10 travel apps list.
Using Uber may be so much cheaper than taxis in most South American countries. And when you use this app, you will know exactly how much the trip will cost even before hopping in. With uber, you do not run the risk of being swiped on the price of the taximeter.
Besides, local taxis are in very bad condition, in some countries, while Uber has a higher quality standard. So you will travel in a safer and more comforting way, for less money. It's a win-win, right?
Another advantage is that Uber allows you to pay with your credit card. And avoiding cash will save you from high exchange rates in airports.
Still, Uber has not yet arrived at every corner of the planet. But where there is the possibility of using it, I always prefer Uber to other means of transport.
PROS:
Safer when traveling than taking a taxi.
CONS:
Not available in all countries or cities.
Booking
This is perhaps more a personal choice, but when it comes to having to book accommodation, I always prefer Booking. Same as Rome2Rio, you can use the website or download the app to use it whenever you need it. You can create an account, add a credit card for your payments, and it's done.
Why do I prefer booking over other great applications that can be found online? There are a few reasons.
First, the prices on Booking are better. As they have more accommodations than other apps, you will often find the best offers through it. Second, because of their Genius program.
Genius is a reward system that allows us to have discounts that can go up to 15% and, on some occasions, breakfast included for free. The thing with this system is that the more you use Booking, the better discounts and rewards you will have.
Before booking your favorite accommodation, make sure to read the various reviews that guests before you have left. They will help you decide if that place is what you are looking for. You can pay with credit card when making the reservation, or choose the option to pay upon check-in.
So for all of these reasons, Booking is definitely one of the 10 best travel apps.
PROS:
Reduced prices compared to other platforms.
Genius reward program.
CONS:
Some accommodations charge a higher price when you book a night through apps. I recommend booking the first nights and then ask for a better price directly at the reception.
BlablaCar
For the more intrepid adventurers, there is BlaBlaCar. This is a carpooling web platform that allows you to find shared rides to reach your destination. Of course, as it's a carpooling app, you will find trips at much lower prices than traditional means of transport.
You will have to create an account to ask for a ride. Once logged in, just search for your destination, and the app will show you all the lifts available according to the date you prefer. After that, get in touch with the driver and get ready to travel.
Besides its economical advantage, Blablacar is a great way of knowing new people. Who knows? You could end up making friends with other passengers or even the driver.
Unfortunately, this platform is not available in every country. But in Europe or countries like Brazil, it is an excellent solution to save some money.
PROS:
Reduced prices compared to classic transport.
CONS:
Not available in all countries. Works well for Europe.
Hostelworld
Yes, I know. We talked before about the cheapest application to book your stay. But in some cases, the goal isn't as much saving money as it is to find the most suitable stay for your needs.
Hostelworld is a great web platform to find accommodations too. But mainly, to find hostels. The thing about this great travel app is that you can be sure the hostels you are booking will be quality places. The prices can be a little higher, and they have a smaller selection than other platforms. But this is exactly because they prefer to select hostels with a slightly more distinguished standard.
Unfortunately, Hostelworld doesn't have discount programs. But if you are looking for nice hostels to stay at, this app might be the right fit for you.
PROS:
Best quality among the selection of hostels.
CONS:
Does not offer discount programs for users.
Prices often a little higher.
Skyscanner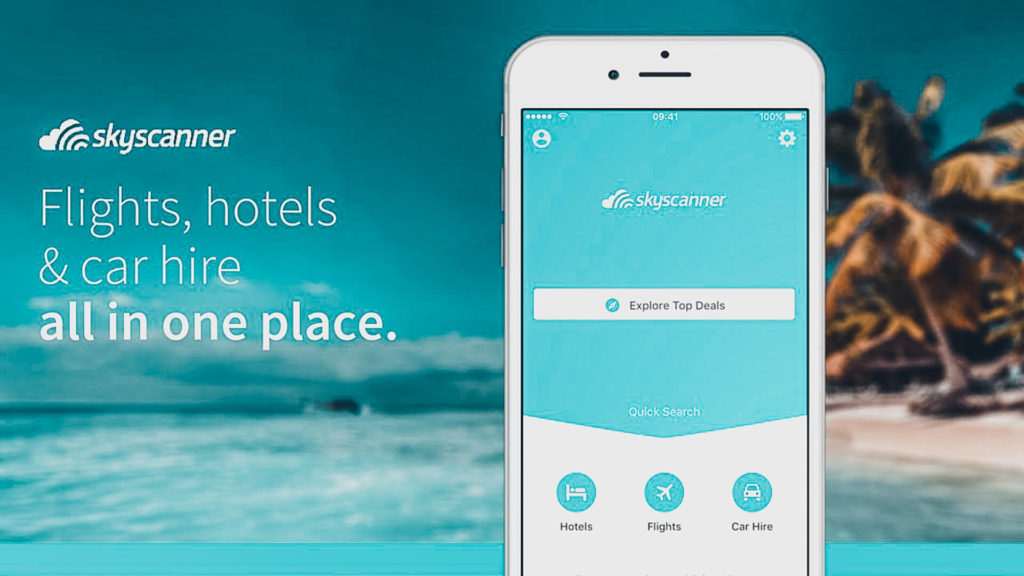 Skyscanner is, in my opinion, the best app to compare travel fares when it comes to plane tickets. This is an online platform that allows you to search through multiple airlines and find the best prices and offers for your flight.
Among the various functionalities it offers, you will find the option to search by destination. But you can also expand your search to nearby airports, which increases the chances of finding a cheaper price. You can also set the search for flexible dates. That will allow you to save lots of money, as you will have the possibility to modify your itinerary based on the best offers found.
We have consulted this platform a lot during our travels, and we have been able to find great offers for lots of destinations all over the world.
We have learned that it's way better to do all the searches with the browser in private mode, so cookies will not be saved and prices will be updated without information from previous searches. If you do not use the private mode, the app could show you higher prices.
Keep in mind that, sometimes, the prices shown do not include checked baggage, which is something essential for us backpackers. So I advise you to inform yourself well before buying a certain ticket in order to avoid surprises.
COVID-19 Related Info
With the Covid-19 issue, these days there are many flight cancellations or delays. Taking this into account, I recommend you book directly with the airline you are flying with. You will probably pay a slightly higher price, but at least you will be sure that in case of cancellation, you can receive a refund or have better communication directly with the company.
PROS:
Extensive airline search.
Allows more flexible searches.
CONS:
Most prices do not include baggage. You have to do a manual search to find the best offers.
iTranslate
We have written an article on how to prepare for your first trip, where we recommend the Duolingo application to learn some vocabulary about your destination's language.
But, if you didn't prepare yourself correctly, or you don't have the slightest notion of the language spoken in the country you are visiting, this is a great useful translation app you need to have.
iTranslate is one of the best translation platforms you can download for free for your travels. It allows you to translate the words you do not know or understand, and consequently, it makes communication a lot easier.
I happened to volunteer in hostels where I had to check-in guests who did not speak any of my languages. It was so hard! But then I started to use iTtranslate to communicate with them, and things got so much easier.
Make sure you have iTranslate on your phone before leaving on that adventure. It's really useful, you will see.
PROS:
It supports more than 100 languages.
CONS:
For offline functions, you will need to buy the Pro version.
Facebook
Last, but not least, we have provided you a useful number 11 travel app: the old familiar Facebook.
Facebook is not an app specifically designed for travel, but it has a very useful functionality for us backpackers, who love to travel and meeting new people. I'm talking about Facebook's groups.
Facebook groups are the best place to ask for advice and information. There are backpackers groups about pretty much every region or country in the world. These groups will allow you to communicate with travelers that have been in those places. You will be able to ask them some questions or find useful advice.
Before leaving for a new destiny we always join several groups to get in touch with those who are already been there. It's always a great idea to find some firsthand recommendations on things to do and see or the best accommodation available.
Do you know some more travel apps?
Well, I hope the listed apps can help you with your next travel adventure. But certainly, the travel apps market it's in constant development, so we will try to keep you update on incoming platforms.
In the meantime, check out this article we have written to make sure you do everything you need to successfully plan your travel.
If you have other apps that you use and you think they should be on our top 10 list, feel free to leave a comment and let us know.
Have a great adventure!